Introducing: Eco Flats #1!

With most of our blog projects just about wrapping up, it's time to introduce a brand new project – one that we hold especially close to our hearts.

Tom and Christine have become experts on buying old homes in dire need of care and turning them into efficient buildings. First was the Solares office at Dufferin and College. Then came Our House, a text-book fixer upper in Roncesvalles with an unfinished basement and tiny cramped quarters, which the pair designed and renovated into their current (and CGB ward-winning!) home. The couple began to brainstorm ideas for a new undertaking: an energy efficient apartment complex — something practically mythical in this city's housing market. And now they're onto this next project: Eco-Flats #1!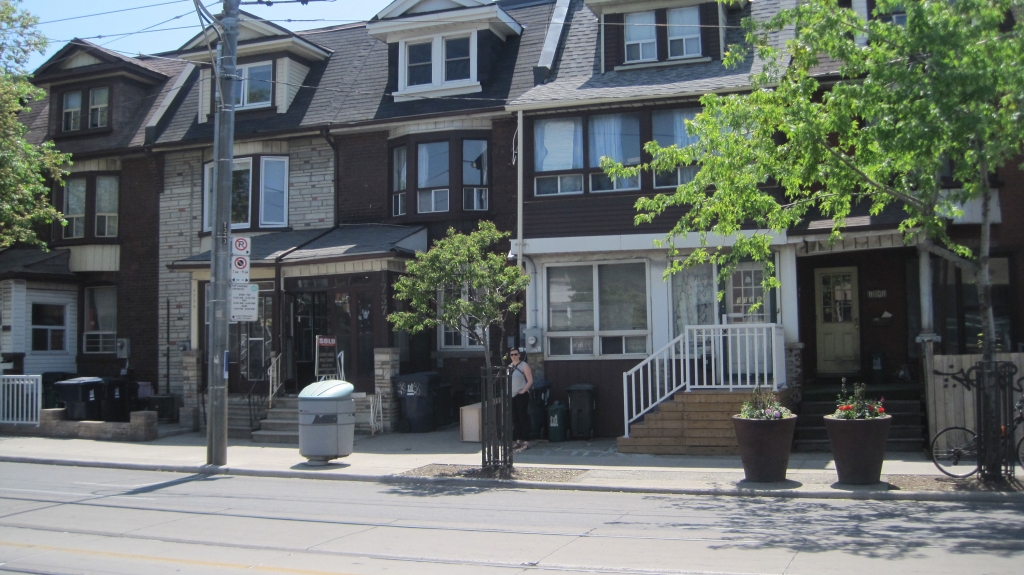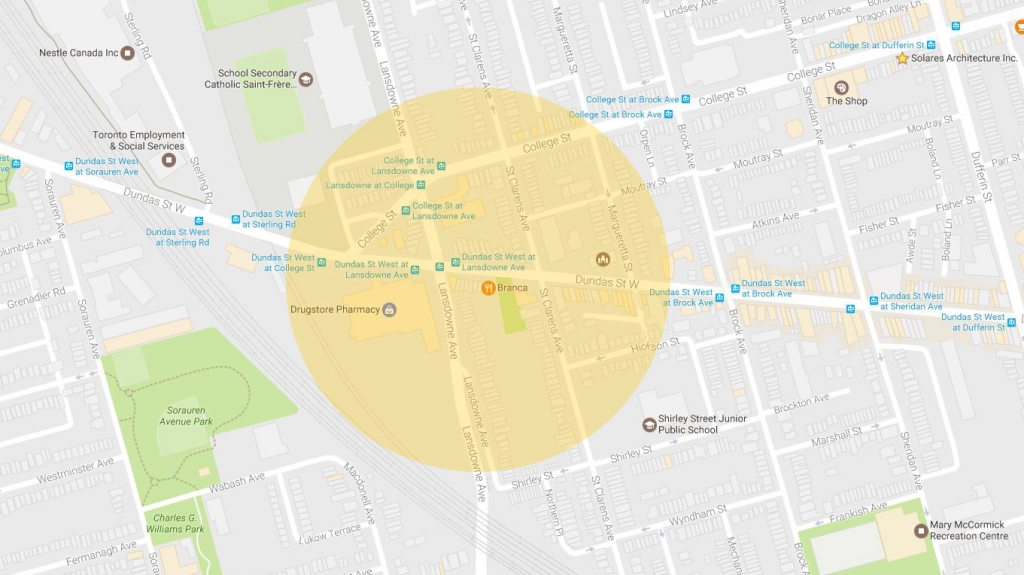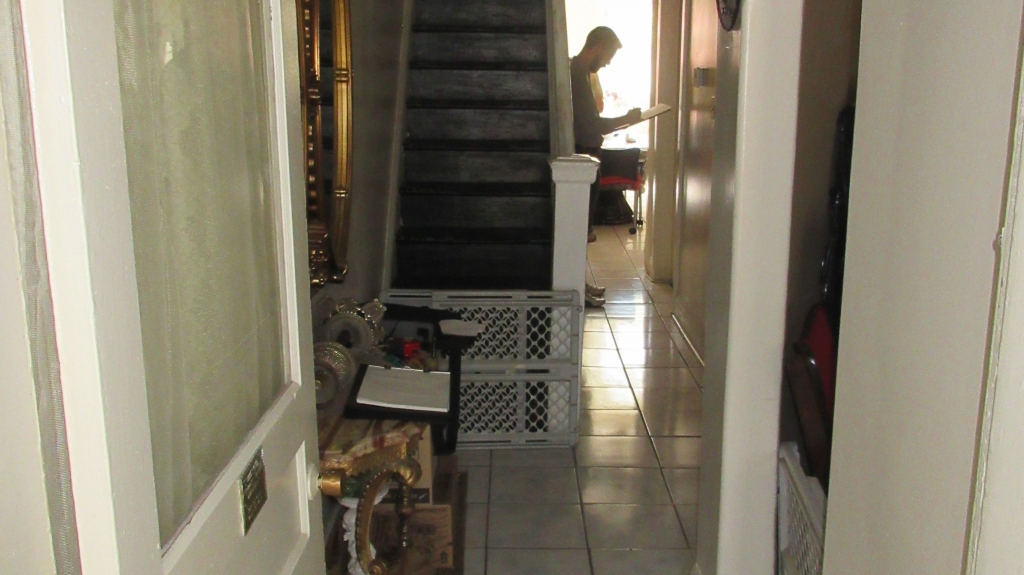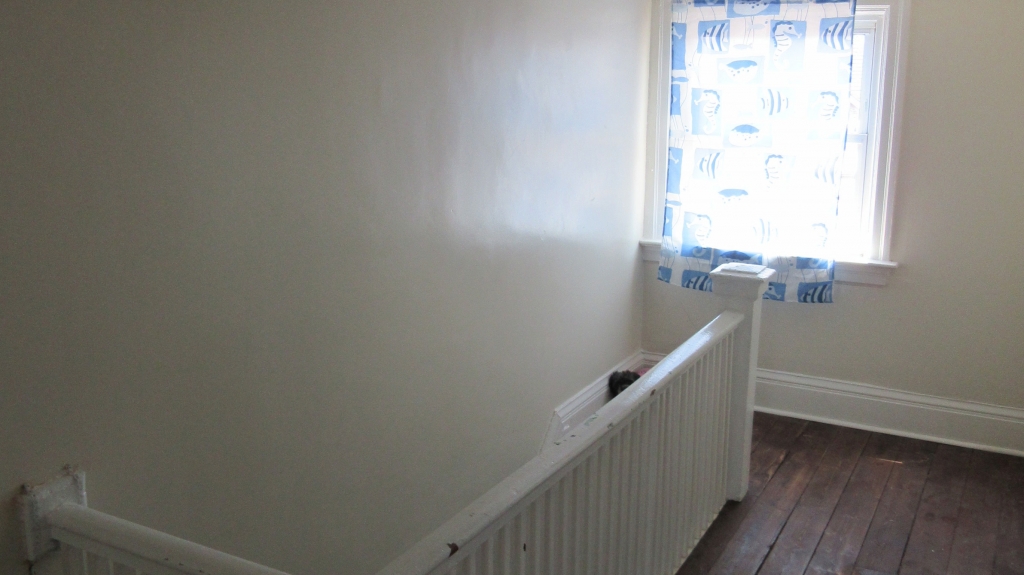 Loving the Neighbourhood
Within walking distance from Solares' office and Christine and Tom's home, this new overhaul is a full gut renovation of a row house at Dundas and Lansdowne. Standing at 3 storeys tall, with laneway access, the house – although a little rough around the edges – has some serious potential.
As evident in the location of all three of their personal projects, the pair love the neighbourhood. Tom, on one of his routine jogs through the neighbourhood, had noticed a few buildings go up for sale. It was clear that the neighbourhood was undergoing some pretty exciting — and trendy — changes. The area is home to some great new restaurants, like the chic and delicious Argentinian restaurant Branca and the intimate and casual bar Wallflower, plus brand new cafes, tattoo parlours, and its own brewery, aptly named Lansdowne Brewery. Also staples to the neighbourhood is a huge No Frills, the artist run Xpace Cultural Centre, and direct access to the College and Dundas streetcar lines and the Landsdowne bus route. Thanks to these new additions, as well as the area's old perks, the neighbourhood is now not only convenient, but, well… cool!
Making the Purchase
Soon enough, this building came on the market. The pair thought it over for a few days, and finally decided to book a viewing, only to find out that an offer had been accepted the day before. They were pretty disappointed. Although this home needed some major work, as evident in the "before" photos (check them out!), the charming house had huge potential, with lots of lovely natural light, sweet slanting walls on the third floor, and a surprising amount of floor space.
Instead of giving up completely, the pair continued to keep in touch with the realtor, in case things changed — real estate is a fickle business and offers are sometimes known to be rescinded or rejected, particularly on atypical buildings like this one. Luckily enough, the original offer fell through a week later, so they quickly made an offer of their own, which the seller accepted!
The pair celebrated their newly purchased building and begun designing a three-unit, energy efficient, passive house apartment complex – a Solares first.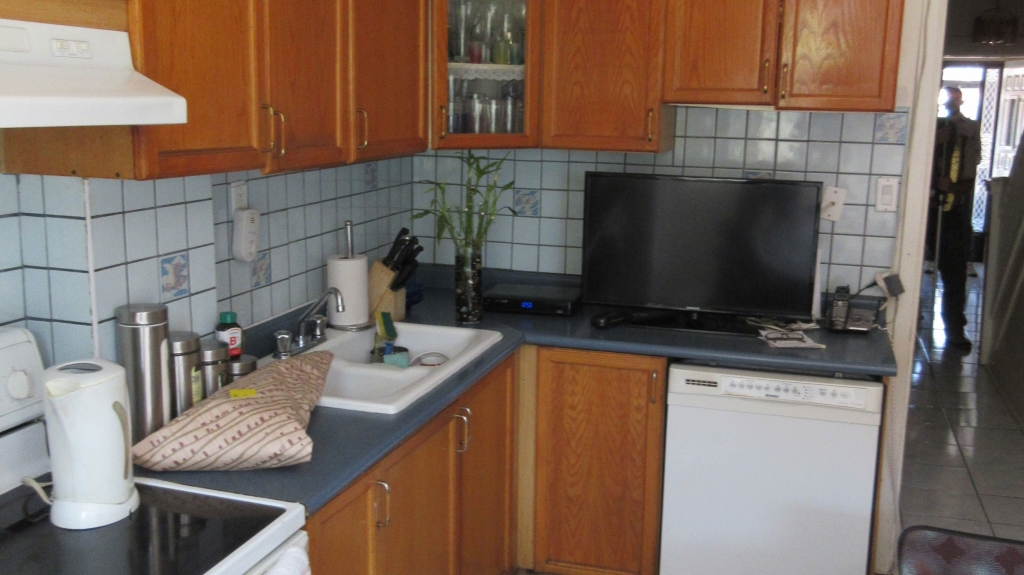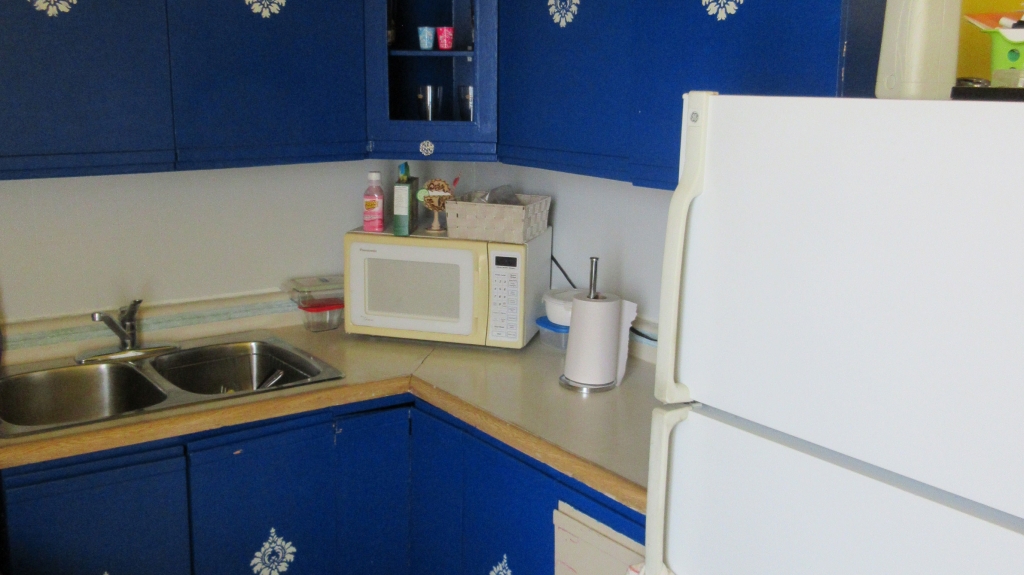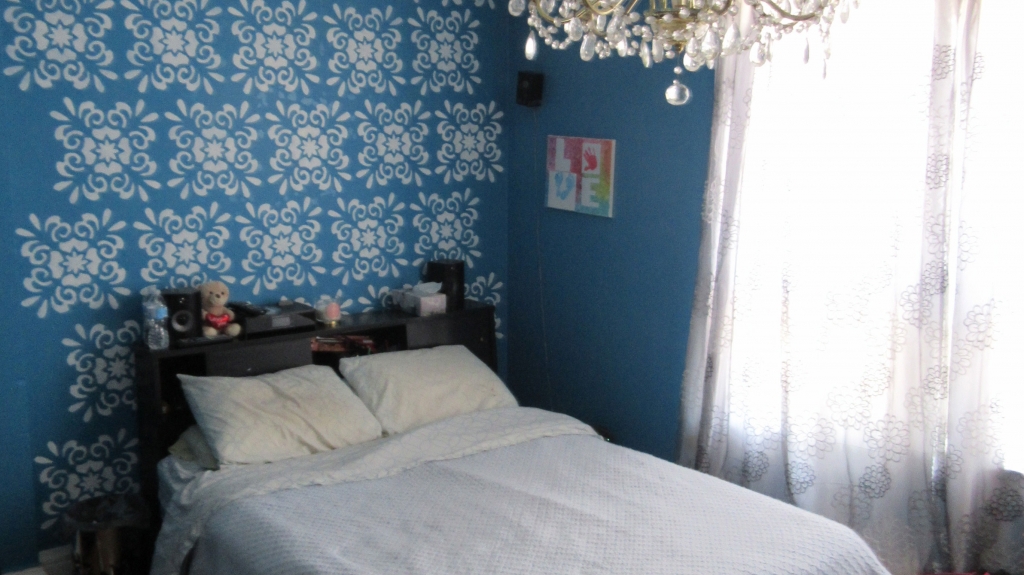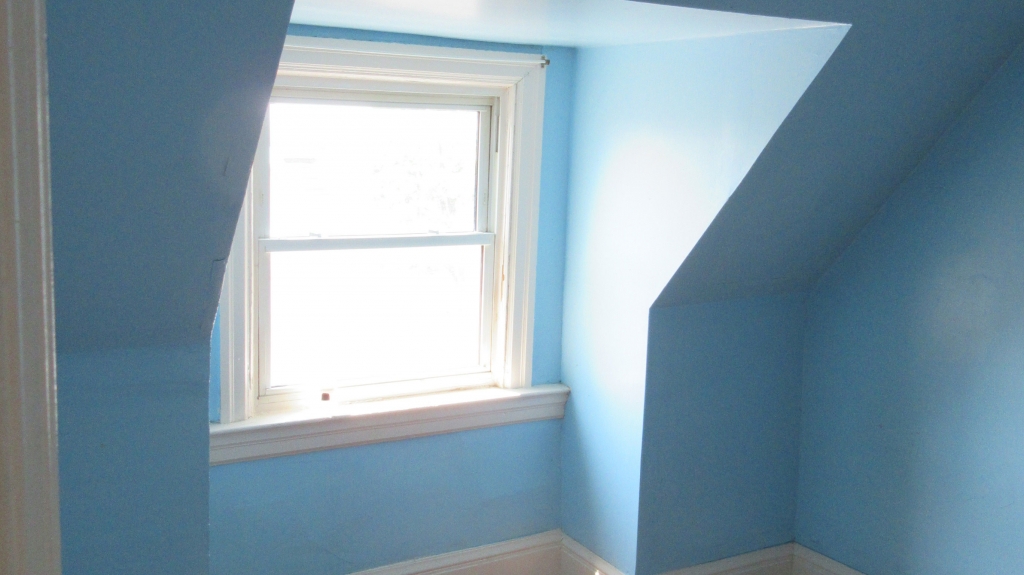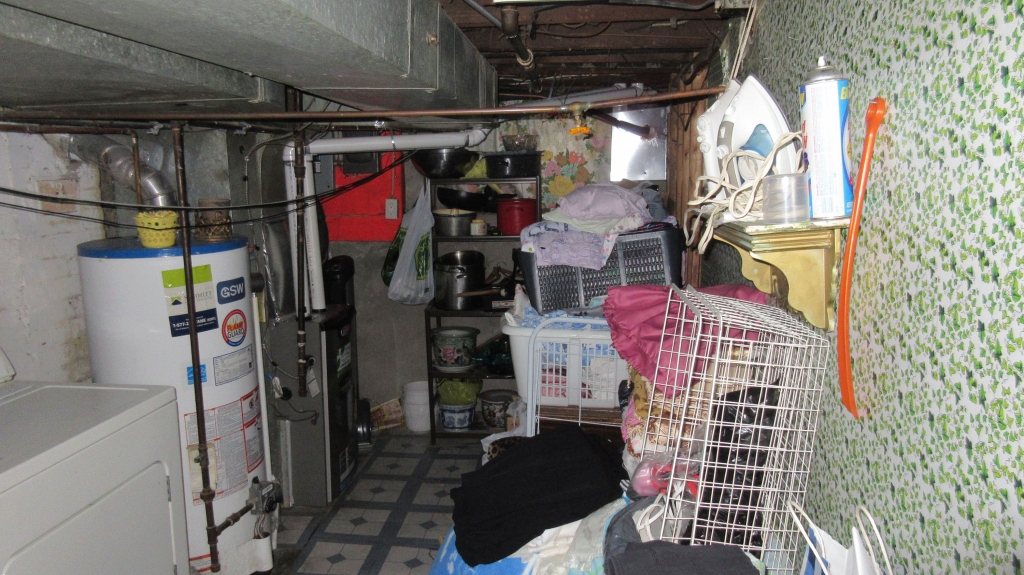 About the Building
The building is an unconventional one. It has no parking, and since parking on Dundas is only legal at certain times of the day, even street parking can be a challenge. Plus, the building takes up almost all of the property, and is attached on both sides. However, the location of the home more than makes up for it, with a playground and parkette a few doors down, and 24-hour access to streetcar and bus routes.
Though the property's attributes may deter a conventional family with lots of kids, cars, and large pets, many city dwellers aren't fussed with parking or private yard or garden space – especially if there's a neighbourhood park nearby and ample TTC access.
Using this building's unconventionalities as inspiration to think outside the box, we decided that turning this building into a small apartment complex was the perfect way to upgrade this property. Each unit will be spacious and livable, with its own entrance, and all the amenities, like laundry and a dishwasher. Plus, the largest unit will have a large, south-facing rooftop terrace on the 3rd floor, making it an appealing choice for a downtown family.
What makes this project even more exciting is that it is going to be an entirely electrically operated, passive house triplex. Location and floor plan aside, this complex will also be ultra-insulated and airtight, and decked out with energy efficient systems. The home will be equipped with a grey-water recovery system, a heat pump water tank, and an efficient ERV system, with a condensing dryer in all three units.
We're excited to share this experience with you as we turn this building into an awesome, energy-efficient rental. Next post, we'll discuss the apartment's floor plans and design!
The Stacked Units of Eco Flats #1

It's time to discuss the floor plans of our brand new Lolley-Knezic Project: Our Eco Flats!

It might go without saying, but designing multi-unit housing is quite different from designing a single family home. Design factors that are normally no-brainers are suddenly a lot more difficult to decide. Where are the entrances and exits? Are they communal or separate? What about outdoor space? Will each unit have their own laundry facilities? Lockers? Separate heating and cooling units?

Many of these questions have more than one "right" answer. But in our opinion, each answer sets up a different type of complex, with a different atmosphere. So even before starting our design, we asked ourselves what kind of homes we want to create. What "vibe" did we want each apartment to have?

We wanted these apartments to be luxurious, comfortable, safe, and private; an oasis from the noise of city living. Neighbours can be great, but when living in such close proximity it's nice to have spaces that are fully private! We conveyed this in our design by making each apartment as insular as we could: this means a separate entrance for each of the three units, and in-apartment laundry, as opposed to a communal laundry room onsite. Plus, each apartment will be able to control their heating and cooling systems, which makes each unit even more independent. But that's for another post!

Another strategy we used to keep the homes as private and quiet as possible was to plan each apartment's layout with respect to the other units in the home. We made sure that "high traffic" rooms like entranceways, kitchens, and living rooms were kept far away from the downstairs neighbours' bedrooms. Hearing stomping feet in a kitchen or living room directly above you isn't the most relaxing way to fall asleep!

The basement and main floor units have nearly the exact same layouts, stacked on top of each other. This not only made things like laying pipes and electrical systems easier, but it also kept noisier rooms on top of noisier rooms, and ditto for quieter rooms. In the upper unit, the great room takes up the highest floor, and the upper unit's 2nd floor bedrooms act as a sound buffer between the upper and main floor units.

So let's get to the details of our floor plans! The house is three storeys, with an additional basement. That gave us four full storeys to work with. The upper unit is a large, three-bedroom apartment that takes up the two uppermost storeys, with a rooftop patio on the third floor. A one-bedroom unit takes up the main floor, and another one-bedroom takes up the basement.

Family-friendly apartments in Toronto are increasingly hard to come by. New developments typically stick to bachelor, one-bedroom, and two-bedroom apartments. Once you start looking for an apartment with 3 or more bedrooms, the pickings get a lot slimmer. We wanted our complex to include a unit big enough for a family to use and enjoy. So we decided to convert the top two floors into a three-bedroom unit.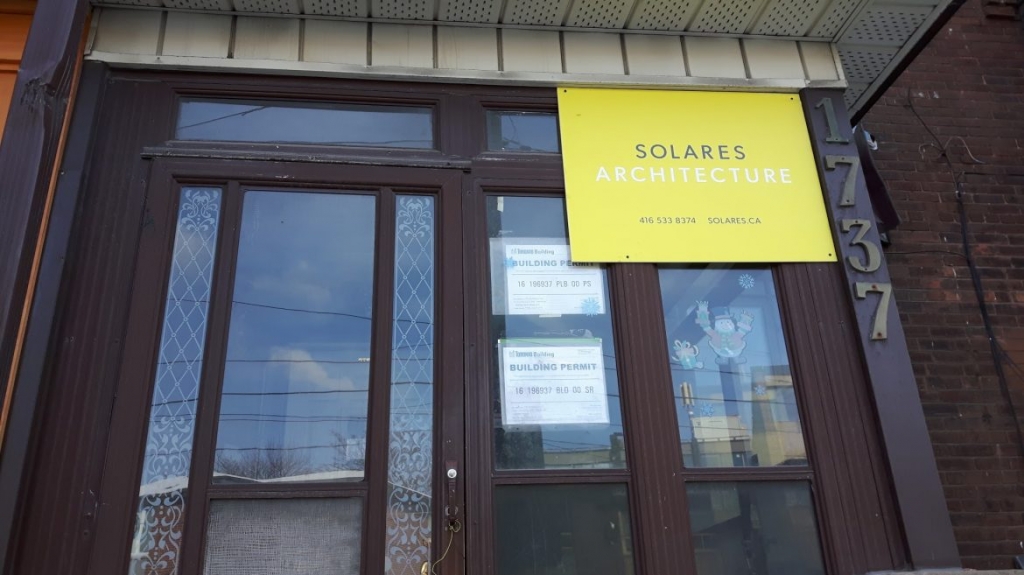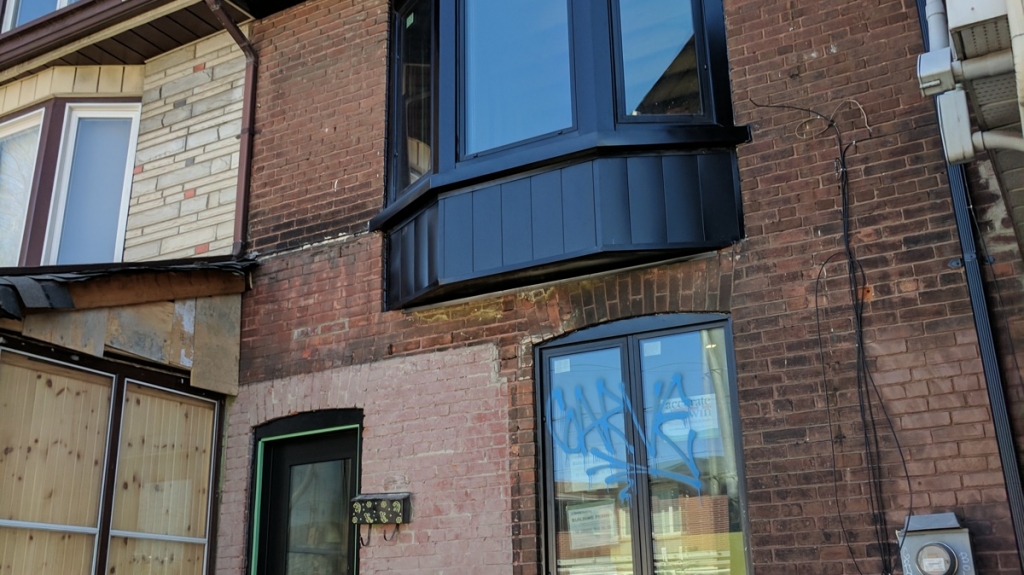 The Upper Unit
The third floor makes up the upper unit's common spaces, and the private bedrooms and bathroom are on the floor below. We did this for numerous reasons: Firstly, we loved the loft-like atmosphere of the third floor, with its charming, slightly slanted walls and high views of the street and city. We thought it would make a great, open-concept Great Room with lots of personality. Secondly, locating the Great Room on the third floor gives the unit tons of privacy – no worrying about the downstairs neighbours when it comes to jumping kids or adult dinner parties in the living room! And thirdly, the roof deck, placed on top of a section of the second floor, allows for a nice urban bit of outdoor space – perfect for a small herb garden or bistro table. We didn't want this deck secluded off a specific bedroom. We wanted it as communal as possible, off the Great Room's dining area, in the back of the house.
The Great Room's kitchen lines the large room's west wall, with tons of counter and storage space, and the living area is tucked into the front half of the storey, with windows overlooking the street.
On the second floor, the apartment's three bedrooms and one bathroom lead off a hallway. The master bedroom is tucked into the front of the house, overlooking the street. A bathroom partitions the master bedroom from the other two bedrooms, one in the centre of the apartment, along the west wall, and the other tucked in the back of the house. A large closet leads off the central hallway, under the stairs to the third floor — perfect for laundry, or a wizard child's bedroom!
This upper unit is the only home that enters from the front of the house. Rather than stacking the stair, the stair is designed to lead straight along one wall of the building, all the way from the front entranceway on the first floor up to the third floor.
We did this because a straight stair usually saves some floor space in a long, narrow building like this. Plus, since the Great Room is on the third floor, we wanted it to be as easy as possible to carry things like heavy groceries up to the third floor, and a straight stair is much easier than wrestling around the corners of a stacked staircase. And finally, the straight stair gives a clear view of the third floor's back patio, which is a dramatic and fun way to hint at what's to come on the third floor while walking up the stairs.
First Floor Unit
The one-bedroom unit on the first floor enters off the back of the house, up a few stairs located in the back yard, off the rear laneway. The building is nearly on the corner of Lansdowne and Dundas, so the back entrance is super accessible from a laneway off Lansdowne, just a few houses in.
The entrance opens into a large Great Room in the back of the house, with large windows facing south. The kitchen is in the far northwest corner of the Great Room, slightly partitioned off from the rest of the room by a large kitchen bar. This kitchen bar adds tons of functionality to the compact kitchen, with lots of counter space and under-the-counter storage. A large closet with laundry facilities (sneakily located under the upper unit's stairs) and a bathroom lead off the small hallway between the Great Room and the large bedroom. The bedroom, tucked into the front of the house, overlooks the street, and the triple-glazed windows bring in lots of light while keeping ambient street-noise out.
Lower Level Unit
On the lowest level is an equally sized one-bedroom unit, that enters from its own staircase also at the back of the house. This unit's layout is nearly the same as the first floor unit, except for one small difference. A small mechanical room is in the space where the bathroom is in the first floor unit. The lower unit's bathroom is instead tucked into the northeast corner under the upper apartment's front entry Lining this hallway opposite the bathroom is a huge amount of closet space. Though this unit is technically a basement apartment, we've made it airy, light, and livable by giving the unit full-sized windows and excavated its own outdoor entrance.
There you have it — the floor plans of Eco Flats #1. Next time, we'll be talking about all the underpinning, extending, and intense woodworking that this building needs to become an all-electric, energy efficient apartment complex.
Parging & Masonry

Welcome back to our Eco-Flats! It's time to talk concrete work and heavy framing of this three-unit, all-electric, urban haven. The house, as we've mentioned before, is a row house, attached on both sides, on Dundas St. West, with laneway access at the rear. After our permits and permissions were set, we got started on tearing everything out that needed to go!

Gutting a house like this one is difficult. The building's unconventionalities made construction much more challenging than your typical, detached – or even semi-detached – home on a quiet residential street. Parking on that strip of Dundas is illegal at most times of the day, so there was nowhere to park a bin for all the disposed bits and pieces. Instead, during demolition, we had to drop a bin on the street in front of the house, quickly fill it, and drive it away almost immediately! Then repeat the process over, and over, and over… talk about a stressful drive.

As we normally do with old renovation jobs, we had the house tested by a team of environmental consultants, to check for any indoor air contaminants that would cause health or safety concerns. The environmental consultants found a small amount of asbestos, which is – unfortunately! – entirely normal in a building of this age. This toxic problem was dealt with by a professional remediation company. Then, we got hacking away at all the old, crumbling, interiors!

So much comes out of these old houses: plaster, framed walls, old bathroom and kitchen tiles, flooring, dated electrical systems, old ductwork & pipes… the list goes on. Truthfully, in this house, the interiors left much to be desired. It had very little we wanted to keep – no traditional molding or secret fancy hardwood hidden under carpets. Demolition removed nearly everything but the brick structure and front half of the roof! The back half of the roof was squared off, and extended by 5 ft to make room for the upper unit's rooftop patio.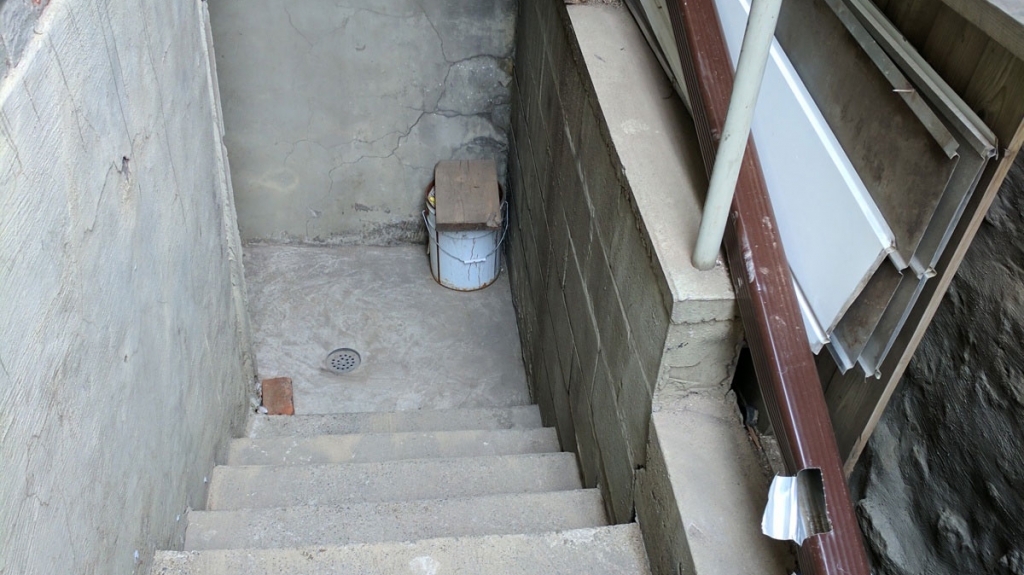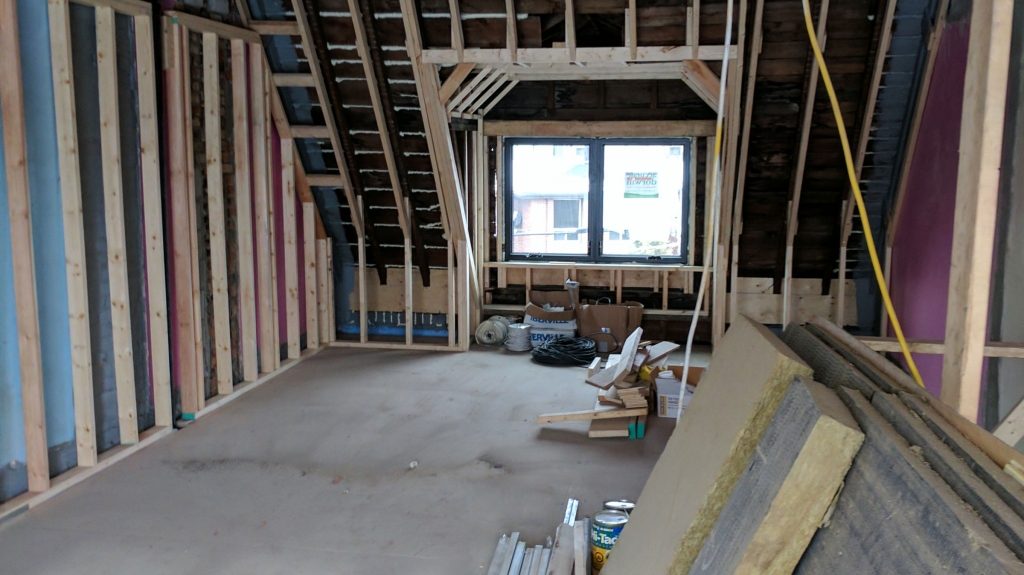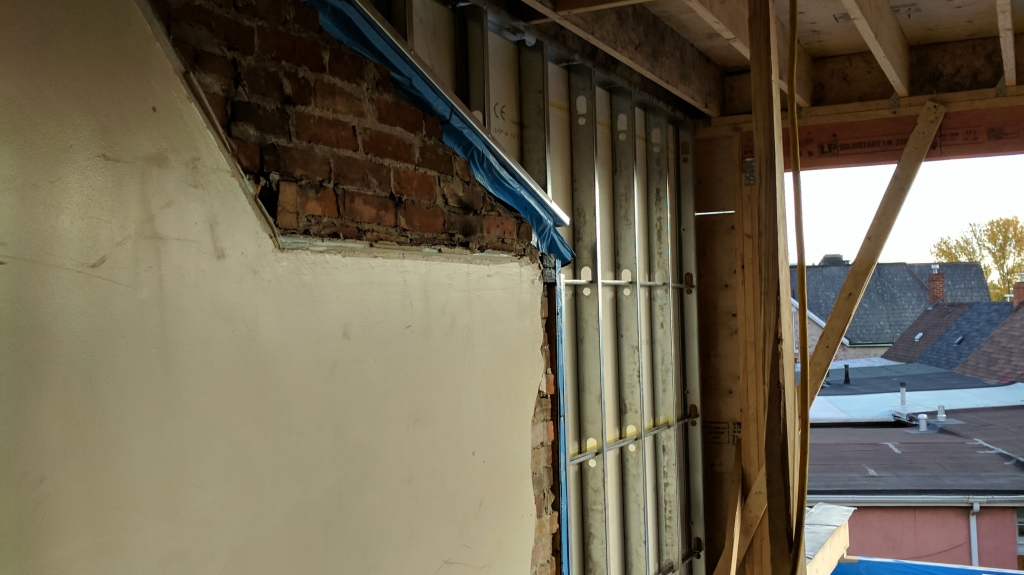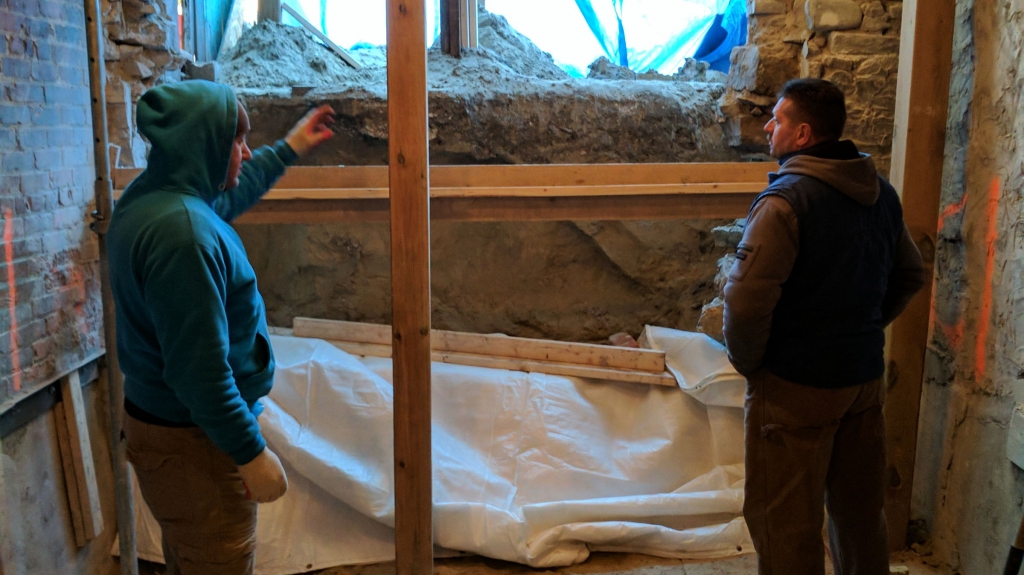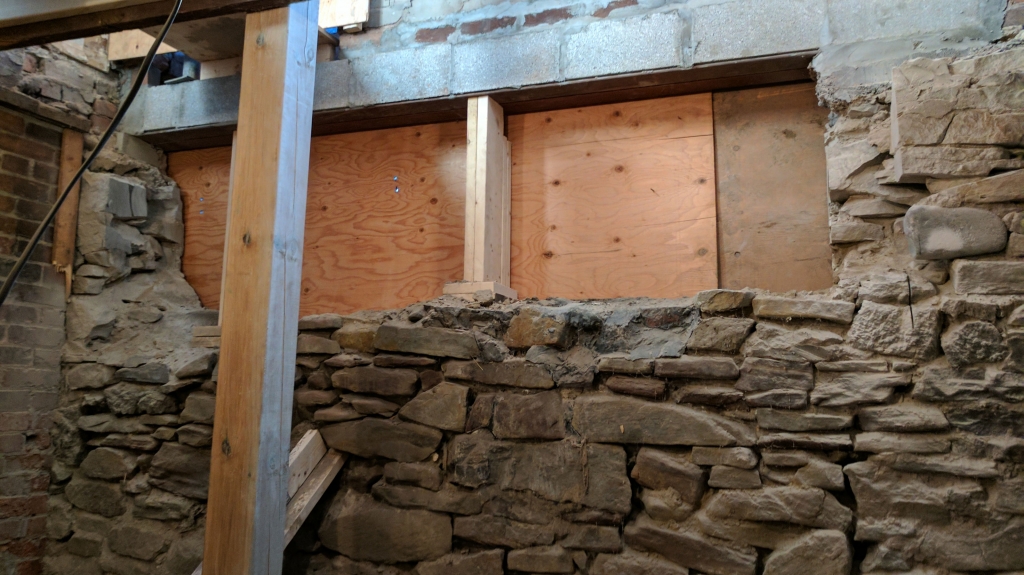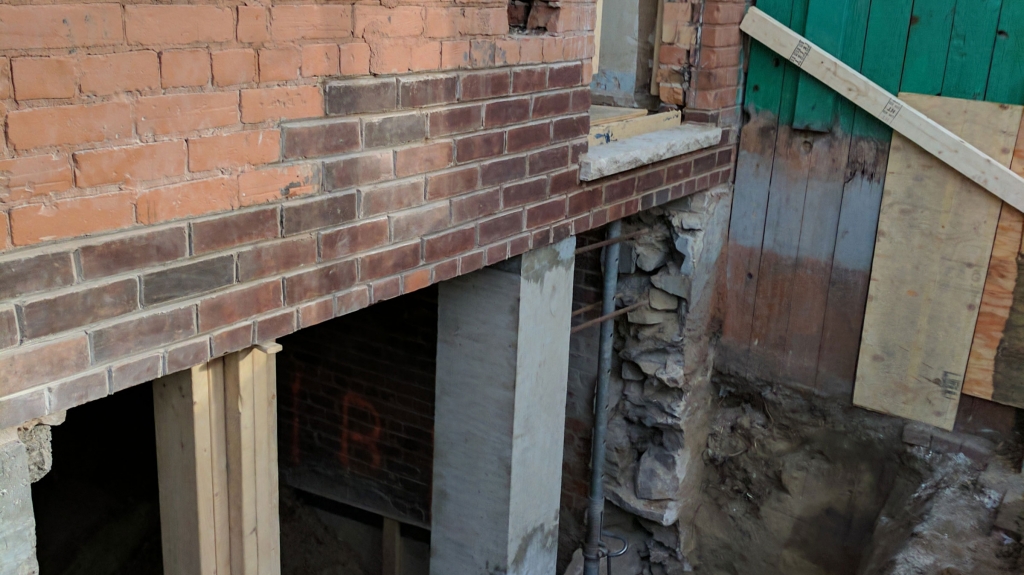 Rear Unit Access
On the lowest two levels, the house's rear wall had to be significantly altered to make room for the entrances of the two lower units.
We removed this portion of the wall entirely, which allowed us to excavate the basement out of this space a little bit easier. Then, we underpinned and reinforced the basement's foundation walls and dug up enough space outside, behind the rear wall to lay stairs down to the basement's front door and up to the first floor's front door. "Oh, is that all?" you're probably thinking!
But, as we've talked about before, removing a load-bearing wall isn't the most simple task. If you remove a load bearing wall without reinforcing the structure, the house could collapse in on itself. Plus, we were simultaneously underpinning the basement, and the dirt floors could buckle, spill out and erode if the structure began to collapse inwards.
To avoid these worst-case scenarios, we installed some heavy duty steel Needle Beams as reinforcement in place of the rear wall, to keep the structure intact without a load-bearing wall. Though these beams seem impossibly thin, they can easily handle the immense pressure of holding a structure together sans-rear wall.
Excavating the rear property to make room for the two lower units' stairs also gave us the opportunity to create full-sized windows in the basement unit. Outside of the window openings, we dug out deep window wells, which allow for full sized windows to collect tons of light, even when half-underground.
Interior Framing
While the excavation endeavour was underway, our two carpenters were doing an amazing job inside, cutting and replacing joists, building new walls, sistering the main floor, and building a new stair and brand new floors on the second and third floors.
For those of you who don't remember, sistering a floor means pairing every original floor joist with a brand new joist, to reinforce and level the floor. Though we kept and sistered the main floor joists, the second and third floors were completely replaced. Usually, we try and keep the floors original when we can, to save money and time. However, these top two floors were over-spanned, which made them bouncy, saggy, cracked, and generally in poor shape. A floor is over-spanned when there is too much space between supporting walls. When a floor joist is working overtime by being stretched between supporting beams, floors can become uneven, bouncy, and creaky.
Plus, since we were moving the stair to along the eastern wall, ripping up floor joists as we went, we figured it was worth it to build a whole new floor, rather than try and save the handful of joists left over!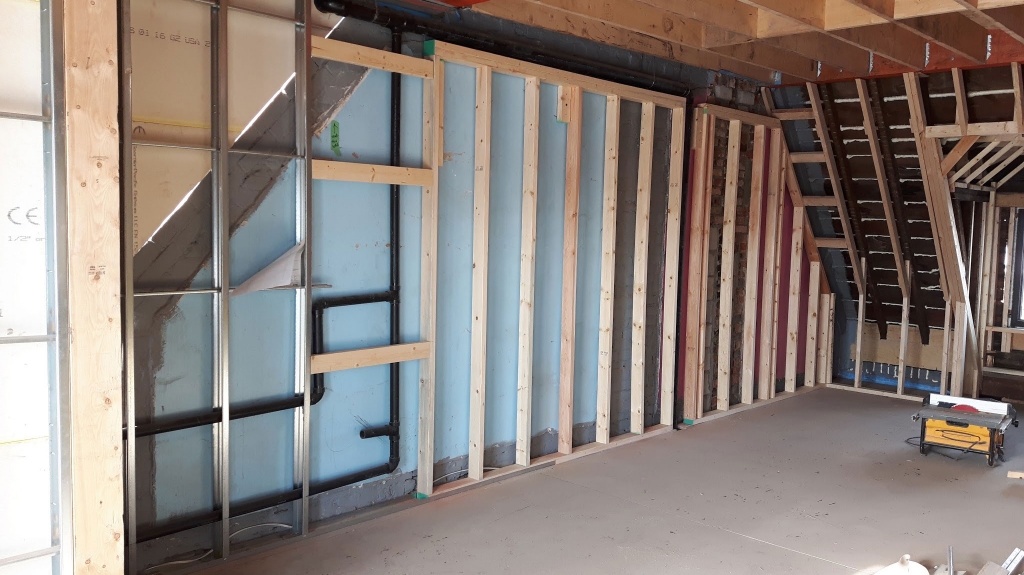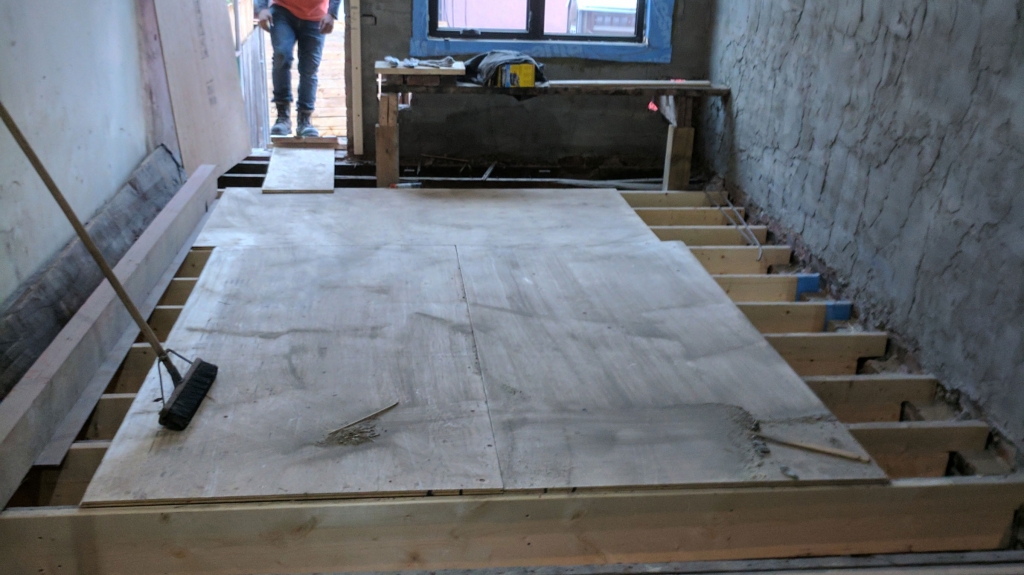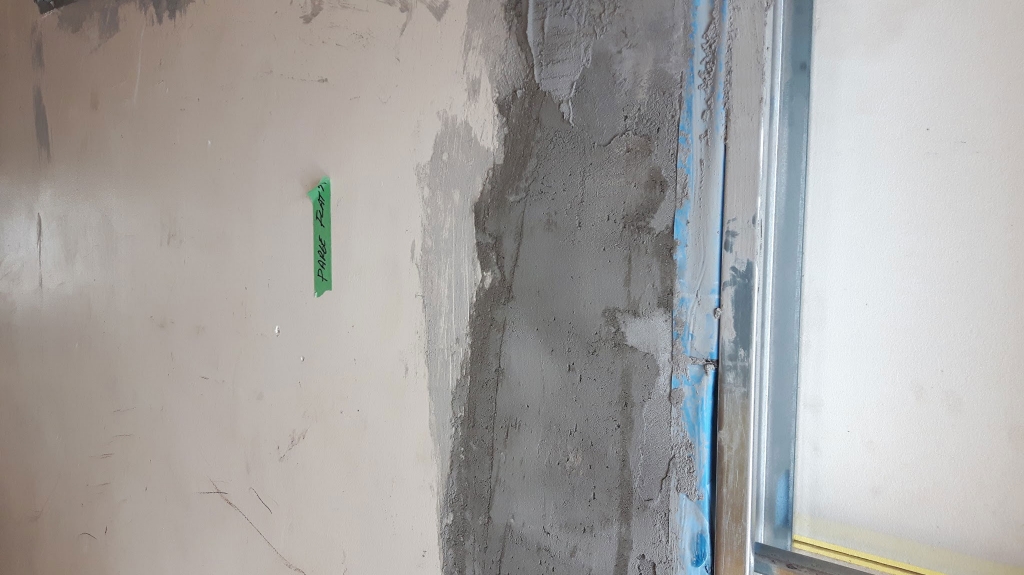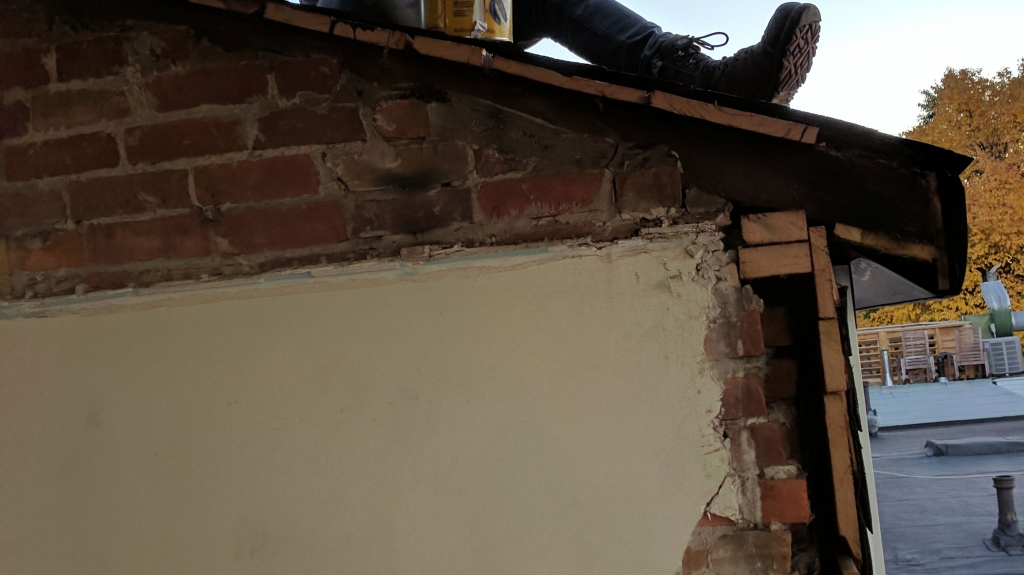 Masonry Magic
After that, our concrete subs and mason did a TON of masonry work, finding seemingly endless amounts of brick to fix. They had to scrape out all the unsound, damaged, and crumbling bricks and joists, and parge (fill in and smooth holes with cement or mortar) nearly all of the exterior structural walls. Think the architectural equivalent of a dinosaur skeleton at the ROM – All that was left was a shell of the old house, and even most of those bones were parging and cement!
Finally, with the house in structural shape, we were ready to tackle the house's interiors and systems. Next time we talk about this project, we'll be putting the "electric" and "efficient" in this all-electric, super-efficient house, by talking about our electrical and plumbing systems.
Sealing up Eco-Flats #1

There are three things that make our Eco-Flats #1 especially exciting: its multi-unit makeup, its goal of meeting passive-house-standards, and its all-electrical systems. So far, we've talked about its multi-unit design, and its messy and satisfying demo. We haven't yet talked about its electrical systems, but that's to come. Today, we'll be talking about its passive-house goal; more specifically, its envelope, insulation, and air barrier: all the 'passive' stuff that keeps a house warm or cold.

To be precise, we are striving for the Passive House Canada standard, which is an exciting and rare feat for an apartment complex to master. However, there are features of this project that may actually help us reach those standards more easily than a conventional, detached single-family home.

The fact that the building is attached on both sides will actually be an advantage when it comes to attempting Passive House standards. This is because "party walls" – a wall aptly named as it is shared by two parties, like the wall shared by two semi-detached homes – retain energy and heat far better than true exterior walls. A home sandwiched between two others, which are presumably being heated by their residents, is much better at retaining heat than a fully detached home, whose cold exterior walls can suck heat out of the home quickly.

Plus, having three units stacked on top of each other, each with their own heating loads and systems, will also help retain heat. Now it isn't just the walls that are shared – it's the ceilings and floors too! This means that the ceilings and floors between units are protected from the cold outdoors. Even the heat lost there may end up contributing to another unit's heat!

Even though the building's shared walls, ceilings and floors help retain heat, we still had a lot of air sealing to do to make sure the exterior building envelope performed optimally. And this step was where the home's attached sides and old structure became a detriment, rather than an advantage.

Air sealing a brand new, detached structure is fairly straightforward: just wrap the entire building with one singular air barrier, making sure you cover the whole thing, and call it a night. But an old building comes with its own dimples, cracks, nooks, and crannies that new structures don't yet have. Small irregularities in the structure are much more difficult to seal than the clean, straight lines of a new home.

To combat this, we used a combination of different air barriers, all of which was topped by a final layer of spray foam insulation, to ensure every gap was sealed and every hole filled. We took special care in the spaces where leaks most likely spring up, like where the roof meets the walls. Here, the roof was air sealed below the roofing, and the existing walls had to be parged before being sealed to the roof. Finally, the whole structure was covered in spray foam as a final layer to ensure airtightness, and as additional insulation, which never hurts a passive house.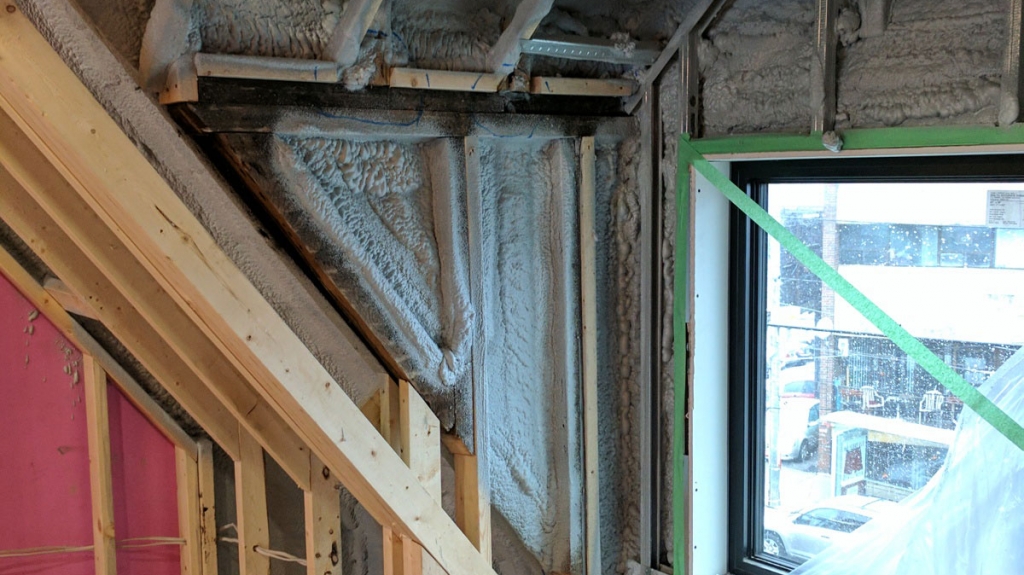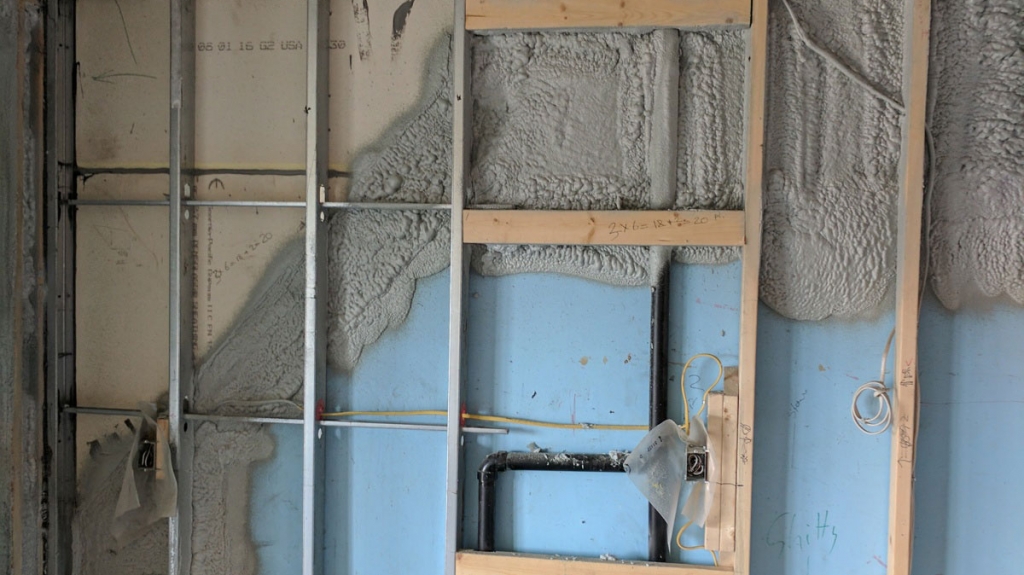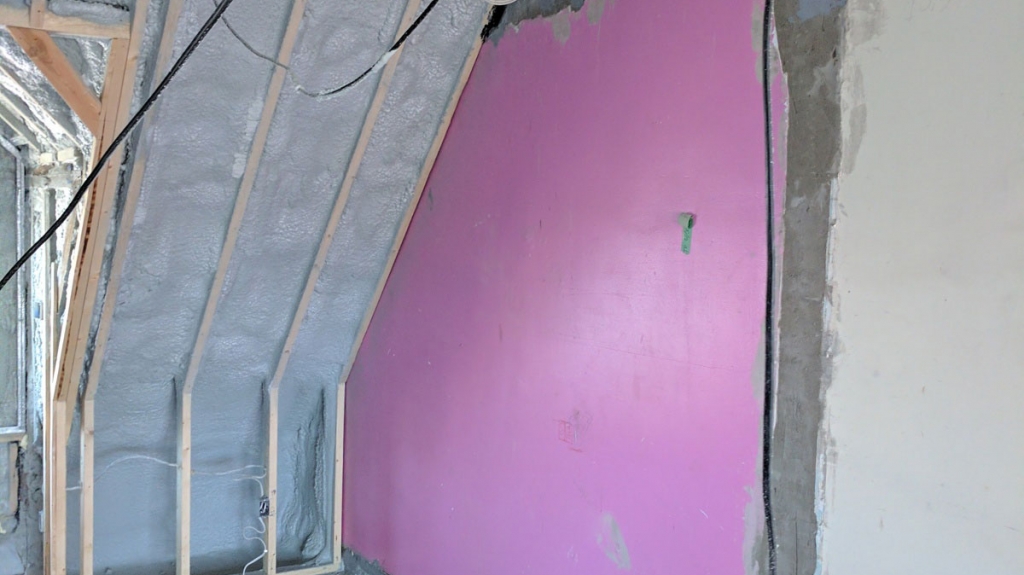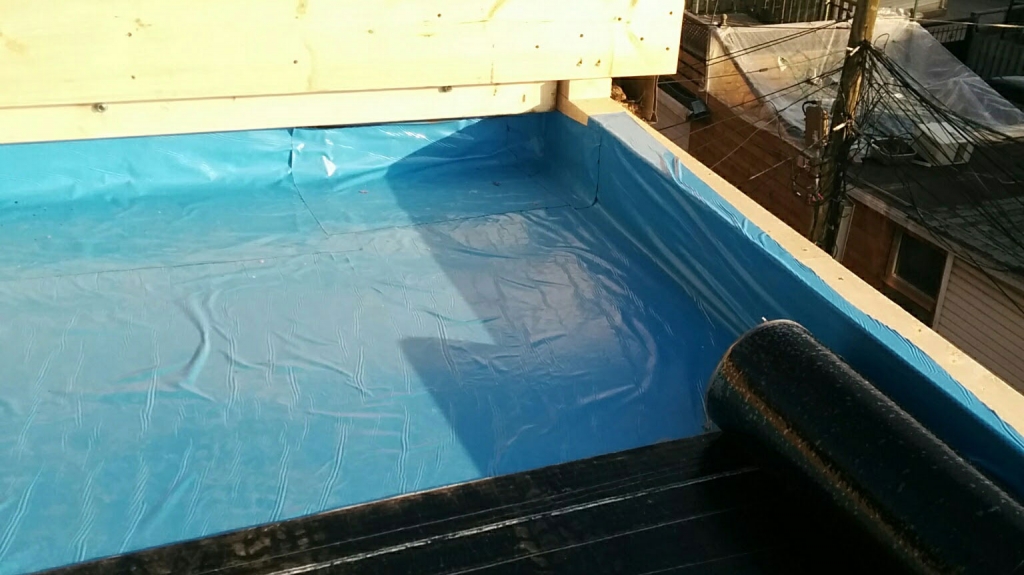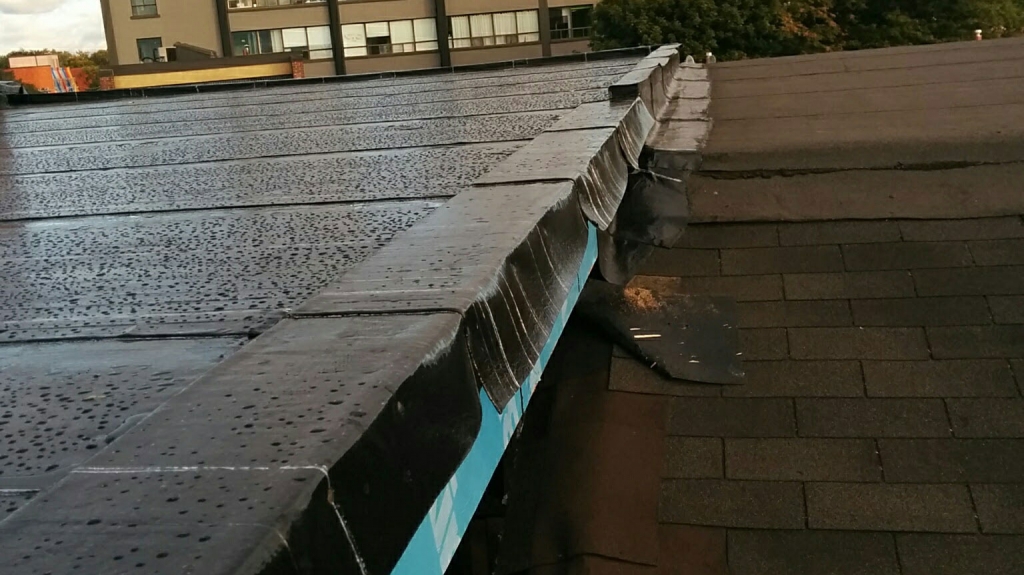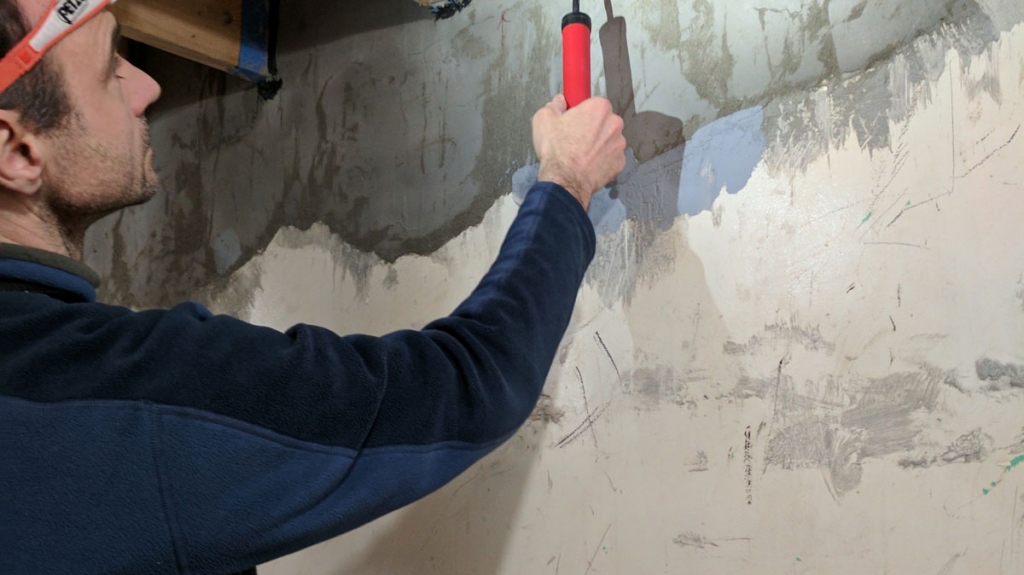 Third-Party Testing
When it comes to airtightness, we never leave it up to luck or chance. We constantly test and measure our air barrier throughout the building process. With a new building, only a few air barrier tests are needed to ensure results. But this old house had countless cracks, divots, and micro leaks, and Passive House Canada demands a rigorous air tightness level of only 0.69 ACH@50pa. We tested over and over and over again, to ensure that we found and sealed every single hole.
We ended up doing a total of six blower door tests with our trusted colleague Greg Labbé from BlueGreen Consulting Group, before we put in our final insulation. When our first pre-drywall blower door test came in at 8ACH, we knew our work was cut out for us! But, after every test, we would seek out and fill holes in our air barrier. our results got better and better. We would seeking out and filling holes in our air barrier, the results got in better and better, finally ending at 1.5 ACH. Because spray foam also acts as an air barrier, the result will only be better once final insulation has been installed.
The Systems of Eco Flats #1

This project is an exciting opportunity to really push the envelope! It's a labour of love: we're putting in a lot of work and seeing just how well-performing a multi-unit complex can be. In this post, we're talking about high tech systems, from ERVs and ductwork to plumbing and air conditioning.

We're more than pleased to be working with Stuart Fix at ReNü Engineering, our HVAC/Mechanical engineer, who is custom designing an HVAC system specific to this project. We've worked with Stuart numerous times before, so we know first-hand his competence and expertise when it comes to all things mechanical. Because this house will also be all-electric, we cut the gas line and called the gas company to remove our gas meter entirely. Judging by the gas company's bewildered reaction, this doesn't happen very often!

All of the heating and cooling will be done by air source heat pumps, which we're installing as we speak! Heat pumps are electrical devices that essentially transfer heat from one place to another. They do this by extracting heat from the air by a line of coolant circulated through a refrigerant line. This coolant collects heat by evaporating into a gas, traveling through the refrigerant line, and releasing its heat elsewhere by condensing back into a liquid. Sound complex and confusing? That's because it is! You can read more about it via Natural Resources Canada.

The beauty of an air source heat pump is its versatility. Because it simply transfers heat from one area to another, it can work as both an air conditioning system and a heating system, depending on the direction of the heat transfer. Plus, each unit will have its own, fully controllable system, which means every resident can adjust the heat in their apartment to their specific liking. These air source heat pumps are tied to each unit's ductless mini-split head by Mitsubishi, which we've then ducted to spread air consistently throughout each apartment.

As for fresh air, each suite will also be equipped with their own high-tech Energy Recovery Ventilator unit (ERV), which retains the heat and moisture from outgoing old air and transfers it to incoming, fresh air, to further save energy. This way, the home's systems won't have to work from scratch to bring outside air to the same heat or moisture level as inside air – most of the job will have already been done by the ERV!

Finally, let's talk water. Each unit gets their domestic hot water from the heat pump hot water tank that we're installing in the basement's mechanical room. The hot water tank heats incoming water via the heat pump, which collects heat from the air and transfers it into the water tank. This heat pump works best in a room with lots of excess heat, so we've placed our basement unit's washer and condensing dryer in the same room as the building's mechanical equipment. The basement tenants never have to feel bad running their dryer, because the waste heat from the appliances is helping out the heat pump hot water tank!

We're also installing a grey-water reuse system, in which bathtub water is used to flush the toilets. Every sink and tub is equipped with a heat recovery drain. Heat recovery drains save all the valuable heat from water heading down the drain and transfers it to the incoming cold water from city pipes. That way, by the time it even gets to our hot water tank, the heating process has already begun!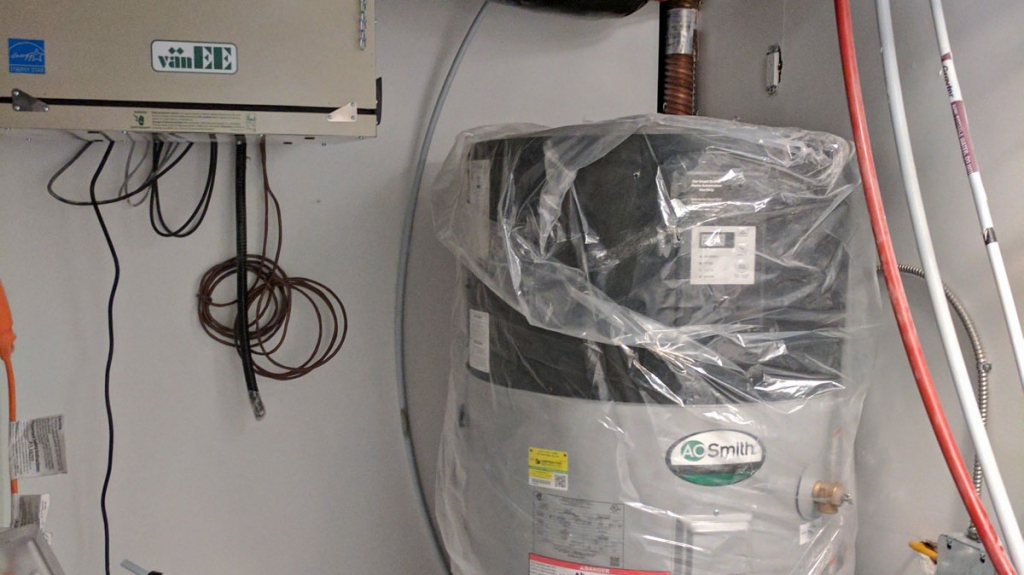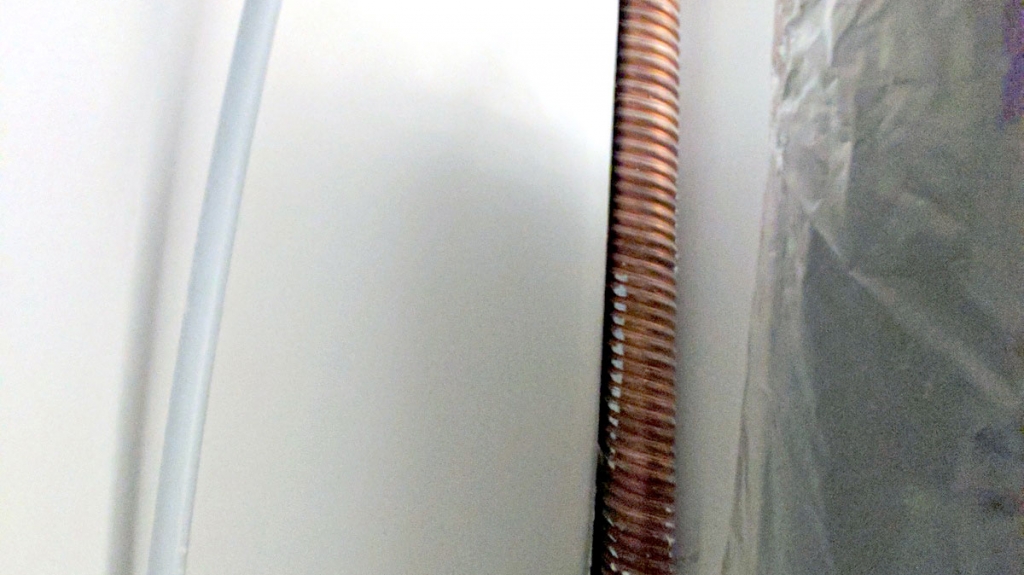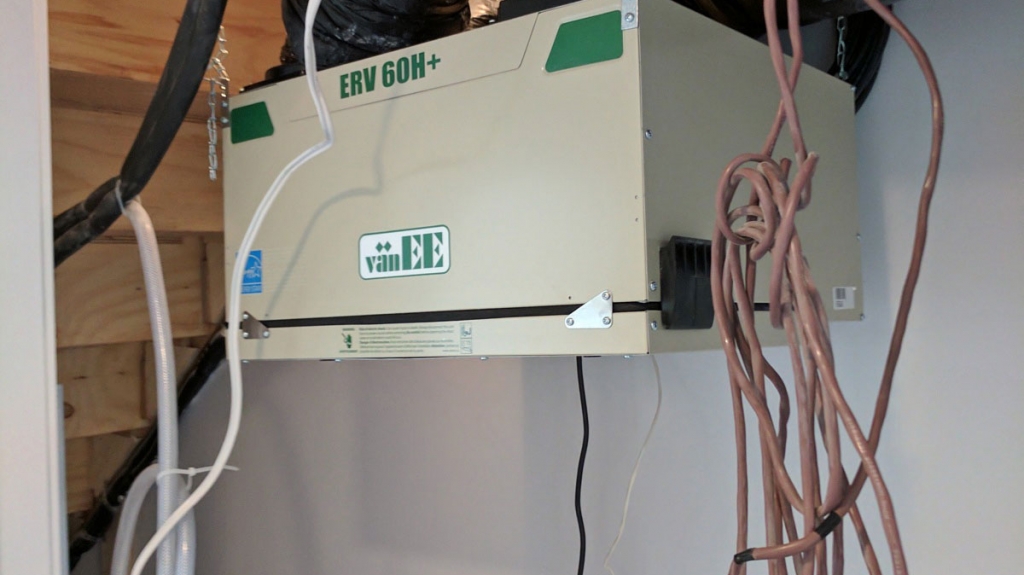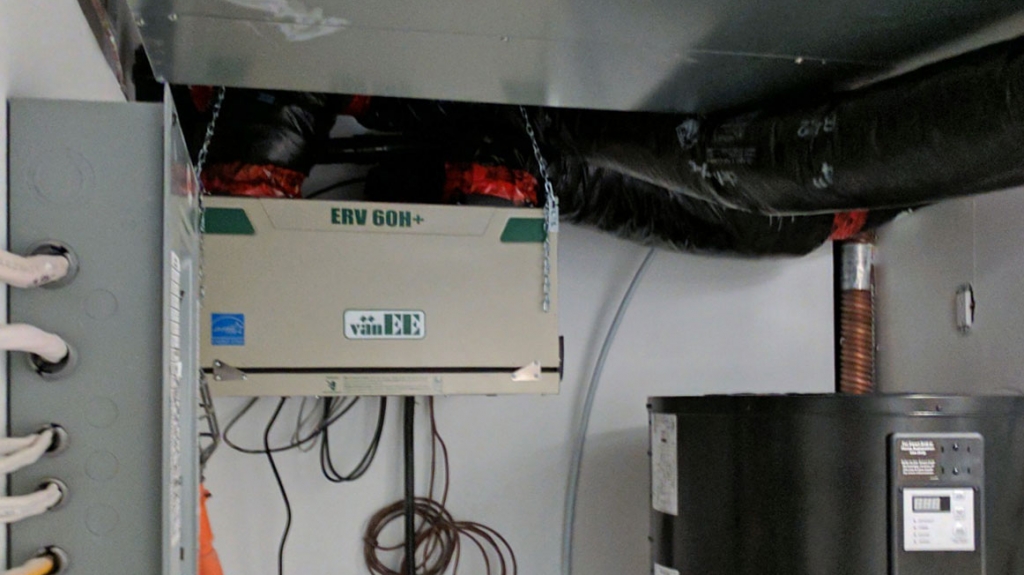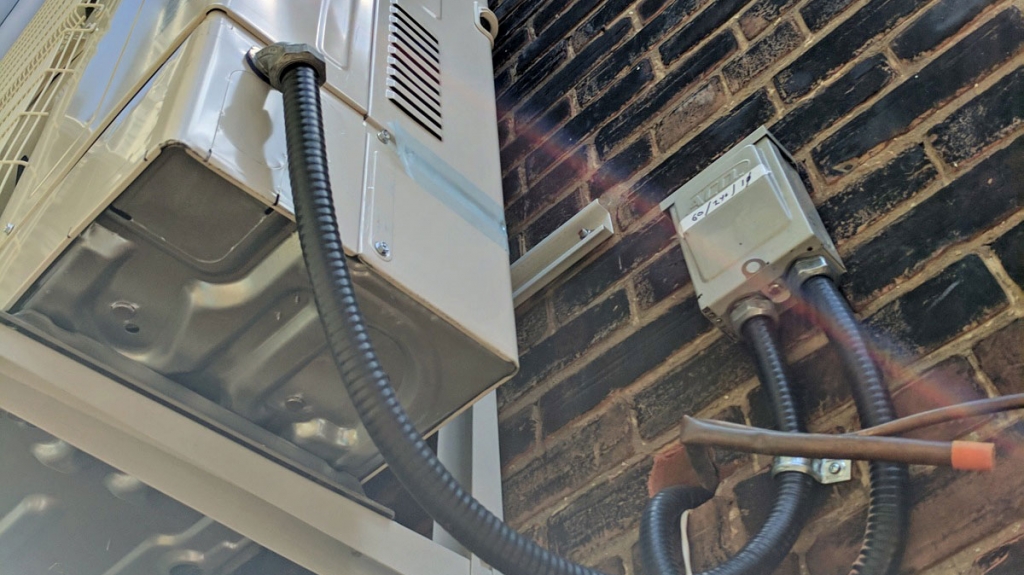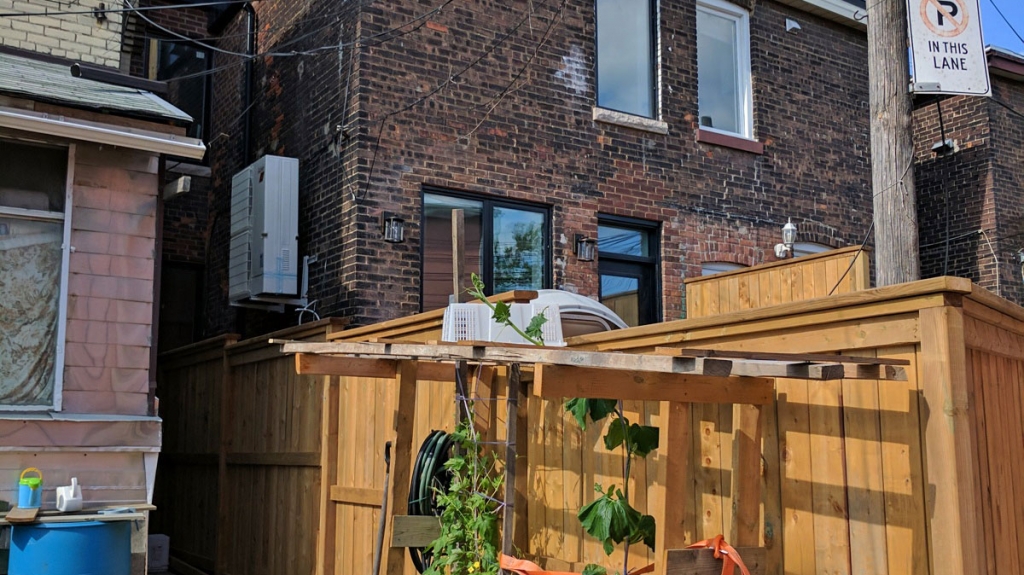 White and Chrome for Eco Flats #1

Wow, what a journey this has been, and here we are at last: the finishing touches!  We love the interiors at Eco Flats #1. We chose colours and materials that would bring a modern feel to the place, but also be accessible as an interior to appeal to many people. As landlords, we want all our tenants to feel at home. We also needed the interiors to be durable and easy to maintain, so that also informed each decision. In the end, we picked a lot of the same stuff that we picked for our own house!

The flooring is a laminate product from Torly's, which uses a system where you can un-click damaged boards and click in replacements as needed. We chose a white wood appearance, which makes the space brighter while still being an easy-to-clean product.

Kitchen and bathroom tiles are from local company Olympia Tile. We chose a neutral charcoal grey for the bathroom floors, and a bright white for the bathroom walls and kitchen backsplashes. We also added some warmth in the bathrooms with white-stained oak vanities and medicine cabinets; and in the kitchens with white oak butcher block counters to balance out the all-white Ikea cabinets.

All of the hardware, doorknobs and plumbing fixtures are chrome; and light fixtures are all white to blend in with the ceiling. We couldn't do many potlights because of the required fire separation between units, so instead there are track lights and pendants in most spaces. Potlights are reserved for the top floor and where there are dropped-ceilings in the bathrooms and hallways.

Stainless steel appliances add a deluxe feeling, as do deep bathtubs and larger sinks with vanity counterspace. The staircase in the two-story upper unit is a charcoal grey and muffles the sound of footsteps for the tenants below. The carpet is sourced from a local carpet store just a few blocks away!

And, of course, the paint colour we chose is our favourite Chantilly Lace, which looks great with the black window frames.

We can't wait to show you the final reveal, so stay tuned!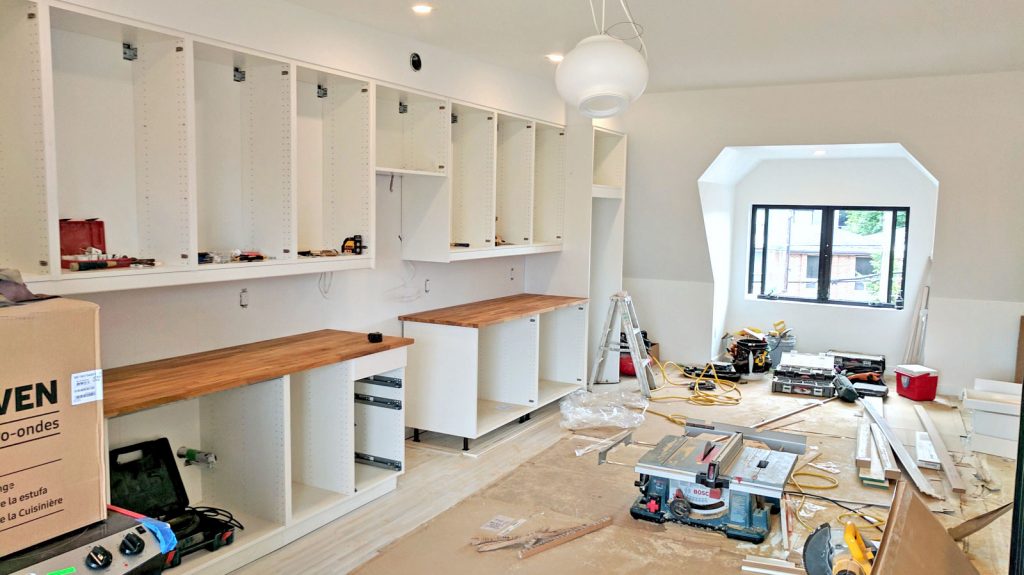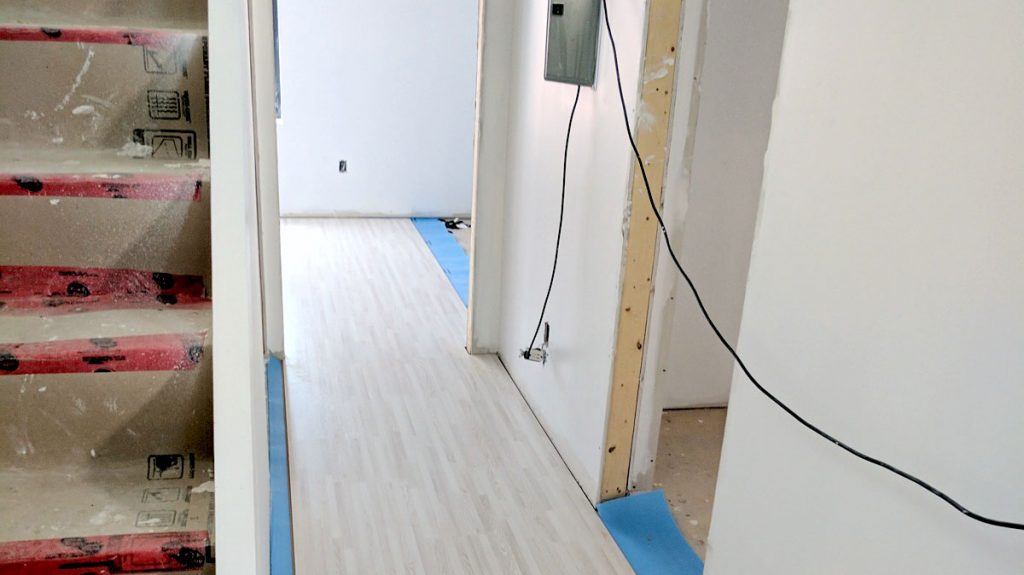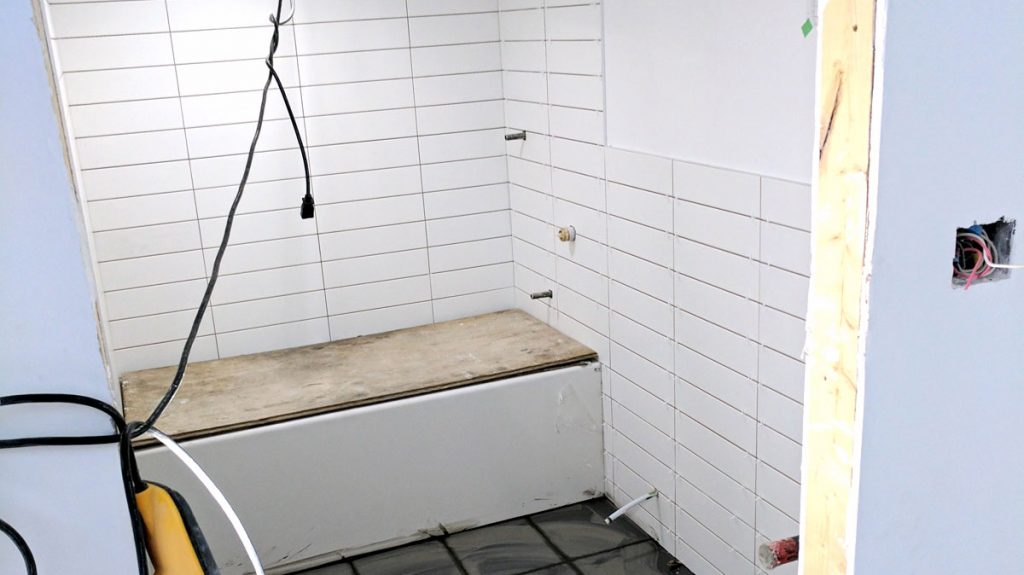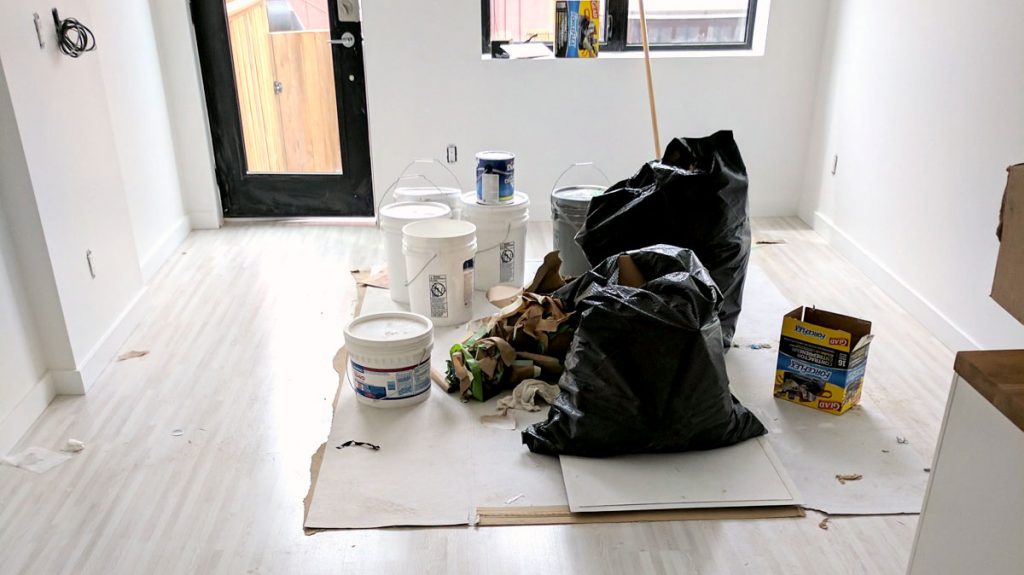 Reveal
Introducing: Eco Flats #1!

With most of our blog projects just about wrapping up, it's time to introduce a brand new project – one that we hold especially close to our hearts.

Tom and Christine have become experts on buying old homes in dire need of care and turning them into efficient buildings. First was the Solares office at Dufferin and College. Then came Our House, a text-book fixer upper in Roncesvalles with an unfinished basement and tiny cramped quarters, which the pair designed and renovated into their current (and CGB ward-winning!) home. The couple began to brainstorm ideas for a new undertaking: an energy efficient apartment complex — something practically mythical in this city's housing market. And now they're onto this next project: Eco-Flats #1!




Loving the Neighbourhood

Within walking distance from Solares' office and Christine and Tom's home, this new overhaul is a full gut renovation of a row house at Dundas and Lansdowne. Standing at 3 storeys tall, with laneway access, the house – although a little rough around the edges – has some serious potential.

As evident in the location of all three of their personal projects, the pair love the neighbourhood. Tom, on one of his routine jogs through the neighbourhood, had noticed a few buildings go up for sale. It was clear that the neighbourhood was undergoing some pretty exciting — and trendy — changes. The area is home to some great new restaurants, like the chic and delicious Argentinian restaurant Branca and the intimate and casual bar Wallflower, plus brand new cafes, tattoo parlours, and its own brewery, aptly named Lansdowne Brewery. Also staples to the neighbourhood is a huge No Frills, the artist run Xpace Cultural Centre, and direct access to the College and Dundas streetcar lines and the Landsdowne bus route. Thanks to these new additions, as well as the area's old perks, the neighbourhood is now not only convenient, but, well… cool!

Making the Purchase

Soon enough, this building came on the market. The pair thought it over for a few days, and finally decided to book a viewing, only to find out that an offer had been accepted the day before. They were pretty disappointed. Although this home needed some major work, as evident in the "before" photos (check them out!), the charming house had huge potential, with lots of lovely natural light, sweet slanting walls on the third floor, and a surprising amount of floor space.

Instead of giving up completely, the pair continued to keep in touch with the realtor, in case things changed — real estate is a fickle business and offers are sometimes known to be rescinded or rejected, particularly on atypical buildings like this one. Luckily enough, the original offer fell through a week later, so they quickly made an offer of their own, which the seller accepted!

The pair celebrated their newly purchased building and begun designing a three-unit, energy efficient, passive house apartment complex – a Solares first.

About the Building

The building is an unconventional one. It has no parking, and since parking on Dundas is only legal at certain times of the day, even street parking can be a challenge. Plus, the building takes up almost all of the property, and is attached on both sides. However, the location of the home more than makes up for it, with a playground and parkette a few doors down, and 24-hour access to streetcar and bus routes.

Though the property's attributes may deter a conventional family with lots of kids, cars, and large pets, many city dwellers aren't fussed with parking or private yard or garden space – especially if there's a neighbourhood park nearby and ample TTC access.

Using this building's unconventionalities as inspiration to think outside the box, we decided that turning this building into a small apartment complex was the perfect way to upgrade this property. Each unit will be spacious and livable, with its own entrance, and all the amenities, like laundry and a dishwasher. Plus, the largest unit will have a large, south-facing rooftop terrace on the 3rd floor, making it an appealing choice for a downtown family.

What makes this project even more exciting is that it is going to be an entirely electrically operated, passive house triplex. Location and floor plan aside, this complex will also be ultra-insulated and airtight, and decked out with energy efficient systems. The home will be equipped with a grey-water recovery system, a heat pump water tank, and an efficient ERV system, with a condensing dryer in all three units.

We're excited to share this experience with you as we turn this building into an awesome, energy-efficient rental. Next post, we'll discuss the apartment's floor plans and design!

The Stacked Units of Eco Flats #1

It's time to discuss the floor plans of our brand new Lolley-Knezic Project: Our Eco Flats!

It might go without saying, but designing multi-unit housing is quite different from designing a single family home. Design factors that are normally no-brainers are suddenly a lot more difficult to decide. Where are the entrances and exits? Are they communal or separate? What about outdoor space? Will each unit have their own laundry facilities? Lockers? Separate heating and cooling units?

Many of these questions have more than one "right" answer. But in our opinion, each answer sets up a different type of complex, with a different atmosphere. So even before starting our design, we asked ourselves what kind of homes we want to create. What "vibe" did we want each apartment to have?

We wanted these apartments to be luxurious, comfortable, safe, and private; an oasis from the noise of city living. Neighbours can be great, but when living in such close proximity it's nice to have spaces that are fully private! We conveyed this in our design by making each apartment as insular as we could: this means a separate entrance for each of the three units, and in-apartment laundry, as opposed to a communal laundry room onsite. Plus, each apartment will be able to control their heating and cooling systems, which makes each unit even more independent. But that's for another post!

Another strategy we used to keep the homes as private and quiet as possible was to plan each apartment's layout with respect to the other units in the home. We made sure that "high traffic" rooms like entranceways, kitchens, and living rooms were kept far away from the downstairs neighbours' bedrooms. Hearing stomping feet in a kitchen or living room directly above you isn't the most relaxing way to fall asleep!

The basement and main floor units have nearly the exact same layouts, stacked on top of each other. This not only made things like laying pipes and electrical systems easier, but it also kept noisier rooms on top of noisier rooms, and ditto for quieter rooms. In the upper unit, the great room takes up the highest floor, and the upper unit's 2nd floor bedrooms act as a sound buffer between the upper and main floor units.

So let's get to the details of our floor plans! The house is three storeys, with an additional basement. That gave us four full storeys to work with. The upper unit is a large, three-bedroom apartment that takes up the two uppermost storeys, with a rooftop patio on the third floor. A one-bedroom unit takes up the main floor, and another one-bedroom takes up the basement.

Family-friendly apartments in Toronto are increasingly hard to come by. New developments typically stick to bachelor, one-bedroom, and two-bedroom apartments. Once you start looking for an apartment with 3 or more bedrooms, the pickings get a lot slimmer. We wanted our complex to include a unit big enough for a family to use and enjoy. So we decided to convert the top two floors into a three-bedroom unit.




The Upper Unit

The third floor makes up the upper unit's common spaces, and the private bedrooms and bathroom are on the floor below. We did this for numerous reasons: Firstly, we loved the loft-like atmosphere of the third floor, with its charming, slightly slanted walls and high views of the street and city. We thought it would make a great, open-concept Great Room with lots of personality. Secondly, locating the Great Room on the third floor gives the unit tons of privacy – no worrying about the downstairs neighbours when it comes to jumping kids or adult dinner parties in the living room! And thirdly, the roof deck, placed on top of a section of the second floor, allows for a nice urban bit of outdoor space – perfect for a small herb garden or bistro table. We didn't want this deck secluded off a specific bedroom. We wanted it as communal as possible, off the Great Room's dining area, in the back of the house.

The Great Room's kitchen lines the large room's west wall, with tons of counter and storage space, and the living area is tucked into the front half of the storey, with windows overlooking the street.

On the second floor, the apartment's three bedrooms and one bathroom lead off a hallway. The master bedroom is tucked into the front of the house, overlooking the street. A bathroom partitions the master bedroom from the other two bedrooms, one in the centre of the apartment, along the west wall, and the other tucked in the back of the house. A large closet leads off the central hallway, under the stairs to the third floor — perfect for laundry, or a wizard child's bedroom!

This upper unit is the only home that enters from the front of the house. Rather than stacking the stair, the stair is designed to lead straight along one wall of the building, all the way from the front entranceway on the first floor up to the third floor.

We did this because a straight stair usually saves some floor space in a long, narrow building like this. Plus, since the Great Room is on the third floor, we wanted it to be as easy as possible to carry things like heavy groceries up to the third floor, and a straight stair is much easier than wrestling around the corners of a stacked staircase. And finally, the straight stair gives a clear view of the third floor's back patio, which is a dramatic and fun way to hint at what's to come on the third floor while walking up the stairs.

First Floor Unit

The one-bedroom unit on the first floor enters off the back of the house, up a few stairs located in the back yard, off the rear laneway. The building is nearly on the corner of Lansdowne and Dundas, so the back entrance is super accessible from a laneway off Lansdowne, just a few houses in.

The entrance opens into a large Great Room in the back of the house, with large windows facing south. The kitchen is in the far northwest corner of the Great Room, slightly partitioned off from the rest of the room by a large kitchen bar. This kitchen bar adds tons of functionality to the compact kitchen, with lots of counter space and under-the-counter storage. A large closet with laundry facilities (sneakily located under the upper unit's stairs) and a bathroom lead off the small hallway between the Great Room and the large bedroom. The bedroom, tucked into the front of the house, overlooks the street, and the triple-glazed windows bring in lots of light while keeping ambient street-noise out.

Lower Level Unit

On the lowest level is an equally sized one-bedroom unit, that enters from its own staircase also at the back of the house. This unit's layout is nearly the same as the first floor unit, except for one small difference. A small mechanical room is in the space where the bathroom is in the first floor unit. The lower unit's bathroom is instead tucked into the northeast corner under the upper apartment's front entry Lining this hallway opposite the bathroom is a huge amount of closet space. Though this unit is technically a basement apartment, we've made it airy, light, and livable by giving the unit full-sized windows and excavated its own outdoor entrance.

There you have it — the floor plans of Eco Flats #1. Next time, we'll be talking about all the underpinning, extending, and intense woodworking that this building needs to become an all-electric, energy efficient apartment complex.

Parging & Masonry

Welcome back to our Eco-Flats! It's time to talk concrete work and heavy framing of this three-unit, all-electric, urban haven. The house, as we've mentioned before, is a row house, attached on both sides, on Dundas St. West, with laneway access at the rear. After our permits and permissions were set, we got started on tearing everything out that needed to go!

Gutting a house like this one is difficult. The building's unconventionalities made construction much more challenging than your typical, detached – or even semi-detached – home on a quiet residential street. Parking on that strip of Dundas is illegal at most times of the day, so there was nowhere to park a bin for all the disposed bits and pieces. Instead, during demolition, we had to drop a bin on the street in front of the house, quickly fill it, and drive it away almost immediately! Then repeat the process over, and over, and over… talk about a stressful drive.

As we normally do with old renovation jobs, we had the house tested by a team of environmental consultants, to check for any indoor air contaminants that would cause health or safety concerns. The environmental consultants found a small amount of asbestos, which is – unfortunately! – entirely normal in a building of this age. This toxic problem was dealt with by a professional remediation company. Then, we got hacking away at all the old, crumbling, interiors!

So much comes out of these old houses: plaster, framed walls, old bathroom and kitchen tiles, flooring, dated electrical systems, old ductwork & pipes… the list goes on. Truthfully, in this house, the interiors left much to be desired. It had very little we wanted to keep – no traditional molding or secret fancy hardwood hidden under carpets. Demolition removed nearly everything but the brick structure and front half of the roof! The back half of the roof was squared off, and extended by 5 ft to make room for the upper unit's rooftop patio.




Rear Unit Access

On the lowest two levels, the house's rear wall had to be significantly altered to make room for the entrances of the two lower units.

We removed this portion of the wall entirely, which allowed us to excavate the basement out of this space a little bit easier. Then, we underpinned and reinforced the basement's foundation walls and dug up enough space outside, behind the rear wall to lay stairs down to the basement's front door and up to the first floor's front door. "Oh, is that all?" you're probably thinking!

But, as we've talked about before, removing a load-bearing wall isn't the most simple task. If you remove a load bearing wall without reinforcing the structure, the house could collapse in on itself. Plus, we were simultaneously underpinning the basement, and the dirt floors could buckle, spill out and erode if the structure began to collapse inwards.

To avoid these worst-case scenarios, we installed some heavy duty steel Needle Beams as reinforcement in place of the rear wall, to keep the structure intact without a load-bearing wall. Though these beams seem impossibly thin, they can easily handle the immense pressure of holding a structure together sans-rear wall.

Excavating the rear property to make room for the two lower units' stairs also gave us the opportunity to create full-sized windows in the basement unit. Outside of the window openings, we dug out deep window wells, which allow for full sized windows to collect tons of light, even when half-underground.

Interior Framing

While the excavation endeavour was underway, our two carpenters were doing an amazing job inside, cutting and replacing joists, building new walls, sistering the main floor, and building a new stair and brand new floors on the second and third floors.

For those of you who don't remember, sistering a floor means pairing every original floor joist with a brand new joist, to reinforce and level the floor. Though we kept and sistered the main floor joists, the second and third floors were completely replaced. Usually, we try and keep the floors original when we can, to save money and time. However, these top two floors were over-spanned, which made them bouncy, saggy, cracked, and generally in poor shape. A floor is over-spanned when there is too much space between supporting walls. When a floor joist is working overtime by being stretched between supporting beams, floors can become uneven, bouncy, and creaky.

Plus, since we were moving the stair to along the eastern wall, ripping up floor joists as we went, we figured it was worth it to build a whole new floor, rather than try and save the handful of joists left over!

Masonry Magic

After that, our concrete subs and mason did a TON of masonry work, finding seemingly endless amounts of brick to fix. They had to scrape out all the unsound, damaged, and crumbling bricks and joists, and parge (fill in and smooth holes with cement or mortar) nearly all of the exterior structural walls. Think the architectural equivalent of a dinosaur skeleton at the ROM – All that was left was a shell of the old house, and even most of those bones were parging and cement!

Finally, with the house in structural shape, we were ready to tackle the house's interiors and systems. Next time we talk about this project, we'll be putting the "electric" and "efficient" in this all-electric, super-efficient house, by talking about our electrical and plumbing systems.

Sealing up Eco-Flats #1

There are three things that make our Eco-Flats #1 especially exciting: its multi-unit makeup, its goal of meeting passive-house-standards, and its all-electrical systems. So far, we've talked about its multi-unit design, and its messy and satisfying demo. We haven't yet talked about its electrical systems, but that's to come. Today, we'll be talking about its passive-house goal; more specifically, its envelope, insulation, and air barrier: all the 'passive' stuff that keeps a house warm or cold.

To be precise, we are striving for the Passive House Canada standard, which is an exciting and rare feat for an apartment complex to master. However, there are features of this project that may actually help us reach those standards more easily than a conventional, detached single-family home.

The fact that the building is attached on both sides will actually be an advantage when it comes to attempting Passive House standards. This is because "party walls" – a wall aptly named as it is shared by two parties, like the wall shared by two semi-detached homes – retain energy and heat far better than true exterior walls. A home sandwiched between two others, which are presumably being heated by their residents, is much better at retaining heat than a fully detached home, whose cold exterior walls can suck heat out of the home quickly.

Plus, having three units stacked on top of each other, each with their own heating loads and systems, will also help retain heat. Now it isn't just the walls that are shared – it's the ceilings and floors too! This means that the ceilings and floors between units are protected from the cold outdoors. Even the heat lost there may end up contributing to another unit's heat!

Even though the building's shared walls, ceilings and floors help retain heat, we still had a lot of air sealing to do to make sure the exterior building envelope performed optimally. And this step was where the home's attached sides and old structure became a detriment, rather than an advantage.

Air sealing a brand new, detached structure is fairly straightforward: just wrap the entire building with one singular air barrier, making sure you cover the whole thing, and call it a night. But an old building comes with its own dimples, cracks, nooks, and crannies that new structures don't yet have. Small irregularities in the structure are much more difficult to seal than the clean, straight lines of a new home.

To combat this, we used a combination of different air barriers, all of which was topped by a final layer of spray foam insulation, to ensure every gap was sealed and every hole filled. We took special care in the spaces where leaks most likely spring up, like where the roof meets the walls. Here, the roof was air sealed below the roofing, and the existing walls had to be parged before being sealed to the roof. Finally, the whole structure was covered in spray foam as a final layer to ensure airtightness, and as additional insulation, which never hurts a passive house.




Third-Party Testing

When it comes to airtightness, we never leave it up to luck or chance. We constantly test and measure our air barrier throughout the building process. With a new building, only a few air barrier tests are needed to ensure results. But this old house had countless cracks, divots, and micro leaks, and Passive House Canada demands a rigorous air tightness level of only 0.69 ACH@50pa. We tested over and over and over again, to ensure that we found and sealed every single hole.

We ended up doing a total of six blower door tests with our trusted colleague Greg Labbé from BlueGreen Consulting Group, before we put in our final insulation. When our first pre-drywall blower door test came in at 8ACH, we knew our work was cut out for us! But, after every test, we would seek out and fill holes in our air barrier. our results got better and better. We would seeking out and filling holes in our air barrier, the results got in better and better, finally ending at 1.5 ACH. Because spray foam also acts as an air barrier, the result will only be better once final insulation has been installed.

The Systems of Eco Flats #1

This project is an exciting opportunity to really push the envelope! It's a labour of love: we're putting in a lot of work and seeing just how well-performing a multi-unit complex can be. In this post, we're talking about high tech systems, from ERVs and ductwork to plumbing and air conditioning.

We're more than pleased to be working with Stuart Fix at ReNü Engineering, our HVAC/Mechanical engineer, who is custom designing an HVAC system specific to this project. We've worked with Stuart numerous times before, so we know first-hand his competence and expertise when it comes to all things mechanical. Because this house will also be all-electric, we cut the gas line and called the gas company to remove our gas meter entirely. Judging by the gas company's bewildered reaction, this doesn't happen very often!

All of the heating and cooling will be done by air source heat pumps, which we're installing as we speak! Heat pumps are electrical devices that essentially transfer heat from one place to another. They do this by extracting heat from the air by a line of coolant circulated through a refrigerant line. This coolant collects heat by evaporating into a gas, traveling through the refrigerant line, and releasing its heat elsewhere by condensing back into a liquid. Sound complex and confusing? That's because it is! You can read more about it via Natural Resources Canada.

The beauty of an air source heat pump is its versatility. Because it simply transfers heat from one area to another, it can work as both an air conditioning system and a heating system, depending on the direction of the heat transfer. Plus, each unit will have its own, fully controllable system, which means every resident can adjust the heat in their apartment to their specific liking. These air source heat pumps are tied to each unit's ductless mini-split head by Mitsubishi, which we've then ducted to spread air consistently throughout each apartment.

As for fresh air, each suite will also be equipped with their own high-tech Energy Recovery Ventilator unit (ERV), which retains the heat and moisture from outgoing old air and transfers it to incoming, fresh air, to further save energy. This way, the home's systems won't have to work from scratch to bring outside air to the same heat or moisture level as inside air – most of the job will have already been done by the ERV!

Finally, let's talk water. Each unit gets their domestic hot water from the heat pump hot water tank that we're installing in the basement's mechanical room. The hot water tank heats incoming water via the heat pump, which collects heat from the air and transfers it into the water tank. This heat pump works best in a room with lots of excess heat, so we've placed our basement unit's washer and condensing dryer in the same room as the building's mechanical equipment. The basement tenants never have to feel bad running their dryer, because the waste heat from the appliances is helping out the heat pump hot water tank!

We're also installing a grey-water reuse system, in which bathtub water is used to flush the toilets. Every sink and tub is equipped with a heat recovery drain. Heat recovery drains save all the valuable heat from water heading down the drain and transfers it to the incoming cold water from city pipes. That way, by the time it even gets to our hot water tank, the heating process has already begun!




White and Chrome for Eco Flats #1

Wow, what a journey this has been, and here we are at last: the finishing touches!  We love the interiors at Eco Flats #1. We chose colours and materials that would bring a modern feel to the place, but also be accessible as an interior to appeal to many people. As landlords, we want all our tenants to feel at home. We also needed the interiors to be durable and easy to maintain, so that also informed each decision. In the end, we picked a lot of the same stuff that we picked for our own house!

The flooring is a laminate product from Torly's, which uses a system where you can un-click damaged boards and click in replacements as needed. We chose a white wood appearance, which makes the space brighter while still being an easy-to-clean product.

Kitchen and bathroom tiles are from local company Olympia Tile. We chose a neutral charcoal grey for the bathroom floors, and a bright white for the bathroom walls and kitchen backsplashes. We also added some warmth in the bathrooms with white-stained oak vanities and medicine cabinets; and in the kitchens with white oak butcher block counters to balance out the all-white Ikea cabinets.

All of the hardware, doorknobs and plumbing fixtures are chrome; and light fixtures are all white to blend in with the ceiling. We couldn't do many potlights because of the required fire separation between units, so instead there are track lights and pendants in most spaces. Potlights are reserved for the top floor and where there are dropped-ceilings in the bathrooms and hallways.

Stainless steel appliances add a deluxe feeling, as do deep bathtubs and larger sinks with vanity counterspace. The staircase in the two-story upper unit is a charcoal grey and muffles the sound of footsteps for the tenants below. The carpet is sourced from a local carpet store just a few blocks away!

And, of course, the paint colour we chose is our favourite Chantilly Lace, which looks great with the black window frames.

We can't wait to show you the final reveal, so stay tuned!




Reveal