Welcome to Eco Flats #2!

Please welcome the newest member of the Eco Flats Empire! Eco Flats #2 is our next super-efficient rental triplex in Toronto. It has three two-bedroom units, and it's our most air-tight project yet!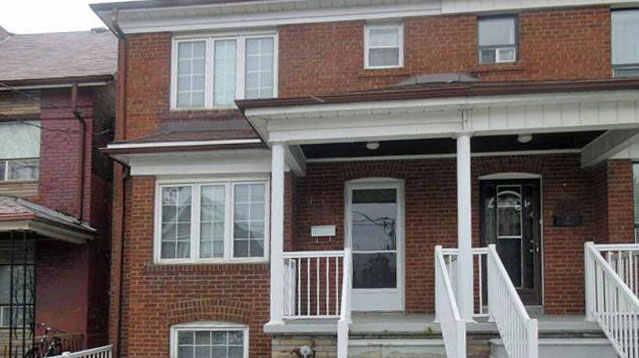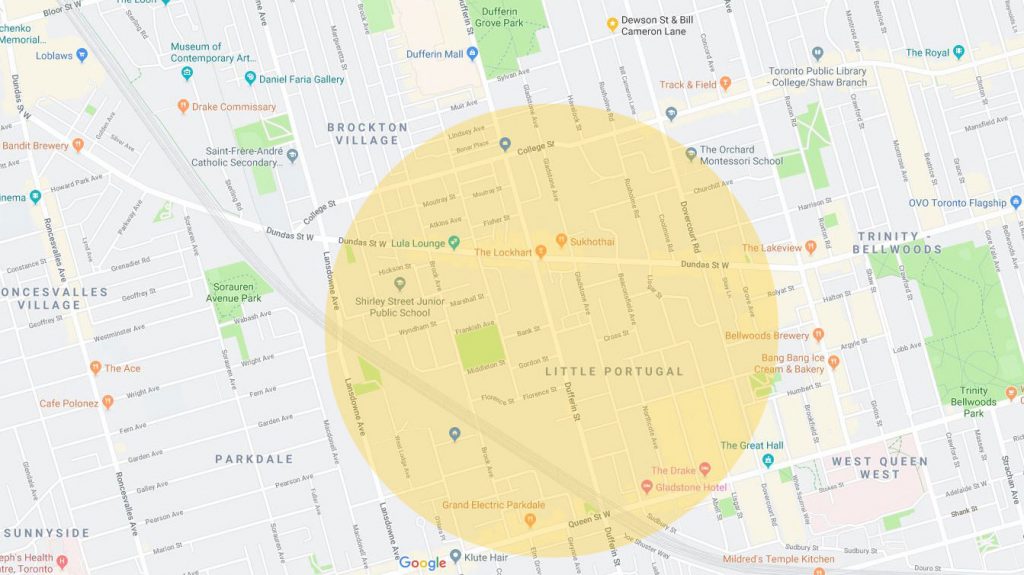 Same Great Neighbourhood
Continuing the theme of energy efficient conversion projects, Eco Flats #2 started out as a single-family home that hadn't been touched in decades. Its location, size, and great bones made it a clear winner for our next Eco Flats project. It has immediate access to the Dufferin bus and the Dundas and Queen streetcar lines, and the Dufferin subway and Exhibition GO stations are just a twenty-minute walk away.
In the neighbourhood are plenty of great cafes, restaurants. Just around the corner is Mary McCormick park and community centre with skating rink, playground, and summertime wading pool. An extra bonus is that it's easy walking distance from the Solares office and Eco Flats #1. We couldn't pass up this property!
Another All-Electric Building
We decided to keep to the existing building size of this semi-detached house. We used the two storeys plus basement to create three distinct apartments, one on each level. Each unit has two bedrooms, one washroom, open-concept kitchen/living/dining, ample storage, in-suite laundry, and a mechanical closet containing its own HVAC systems.
This building, like Eco Flats #1, does not have on-site parking. It does, however, have a spacious backyard with a walk-out from the main floor apartment, and we created a patio off the upper level apartment.  Each unit has its own private entrance: the lower level enters through a sizeable walk-out from the front; the main floor unit's "front" door is at the back; and the upper unit uses the original front entrance of the house.
This project is also completely electric. Since the renovation is so energy efficient, well insulated, and airtight, electricity consumption for heating and cooling will be minimal. And when we say air-tight, we mean the most air-tight building envelope we've ever done! (Sneak peak to the Envelope post: Eco Flats #2 achieved 0.34 ACH!!)
Another great feature of this triplex is that each unit has its own controls for heating and cooling. Our tenants will be able to make their individual apartments suit their own comfort needs!
We're thrilled to share this latest Eco Flats project with you. We will tell you so much more about it in the coming cast study posts. And eventually, we will show you the final reveal! Up next we'll talk about the floor plans and design of this super-efficient rental conversion!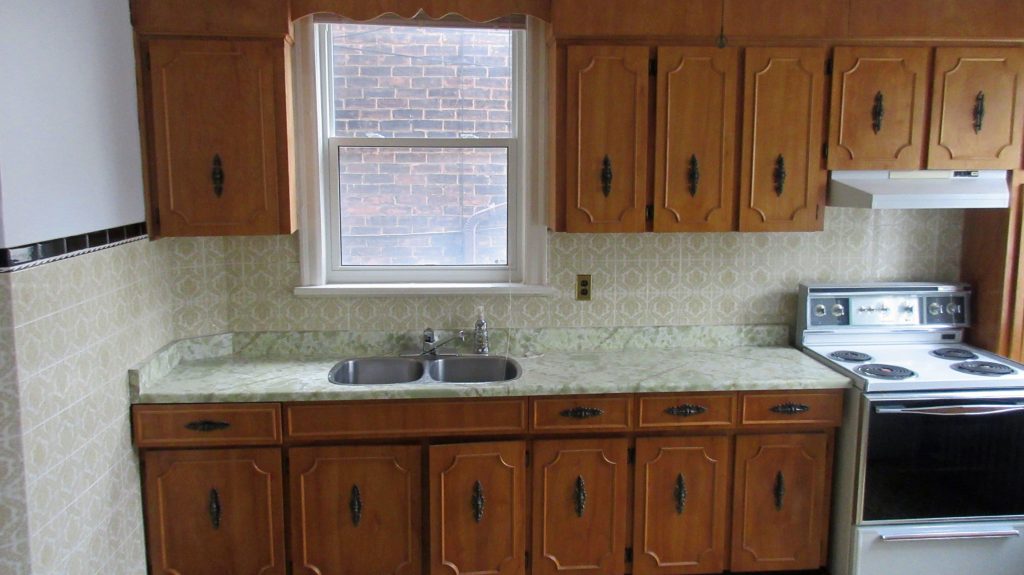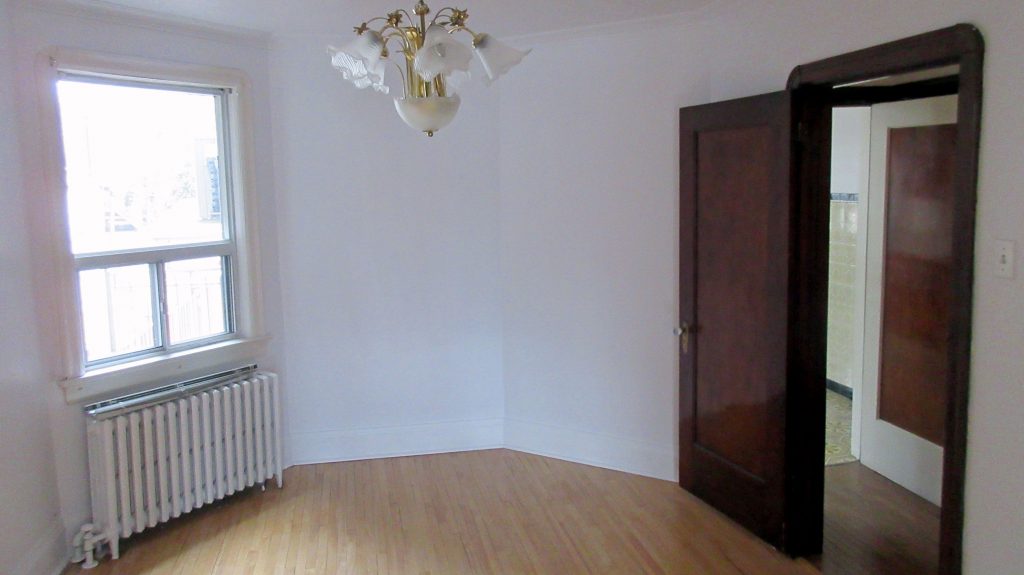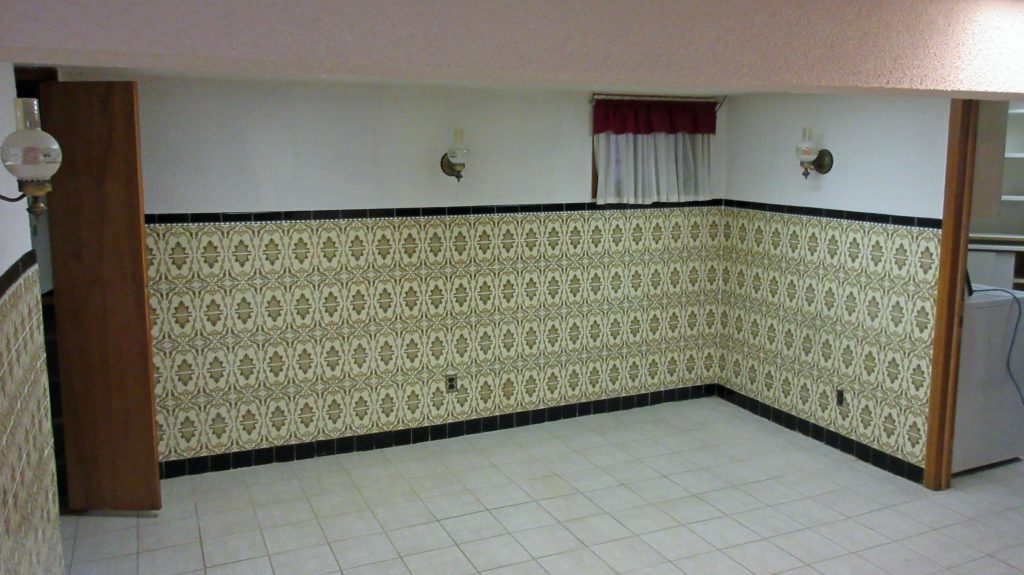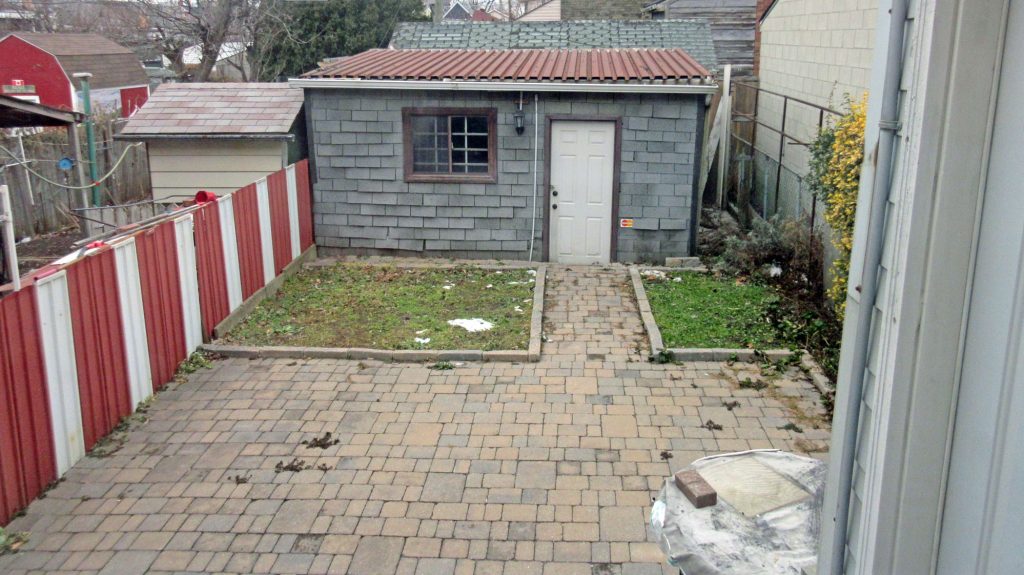 And for Our Next Triplex, Here's Eco Flats #2!

Another triplex joins the Eco Flats family! Eco Flats #2 is our next stacked triplex, and this time all three units are full two-bedroom apartments! They are designed to suit individuals and couples who want extra space for guests or a home office, or roommates and families who need two dedicated bedrooms. It was important to us to create larger apartments that can be flexible for different kinds of occupants.

The first interesting thing we've done here is with the entrances. For Eco Flats #2, we really wanted to create suites with their own private and unique entrances. The lower level has a spacious entrance at the front of the house, with a wide staircase leading down to a large landing area with a glass-panel front door. The main floor unit has it's "front door" at the back of the house with access down the side and through the backyard. The upper apartment uses the traditional front door on the Dufferin Street porch, which opens onto a staircase that leads straight up to the upper Living/Kitchen/Dining area.

The entrance configurations determined, in part, how the spaces are arranged in each unit. For the top two units, the living spaces are at the back where their main entrances open on to. They also each face out to their own private outdoor space at the back of the house: the backyard for the main floor and a rear deck for the upper unit. Since the lower level opens directly into the front of the floor plan, it's living/kitchen/dining area is at the front facing Dufferin Street, with the bedrooms located at the back.

Each unit's layout also includes an open-concept living/kitchen/dining area, full washroom with large bathtub, private in-suite laundry, lots of closet space, and a dedicated mechanical room with its own individual HVAC controls. The ability to have fully independent heating and cooling controls was very important to us, but more on that in the Systems post!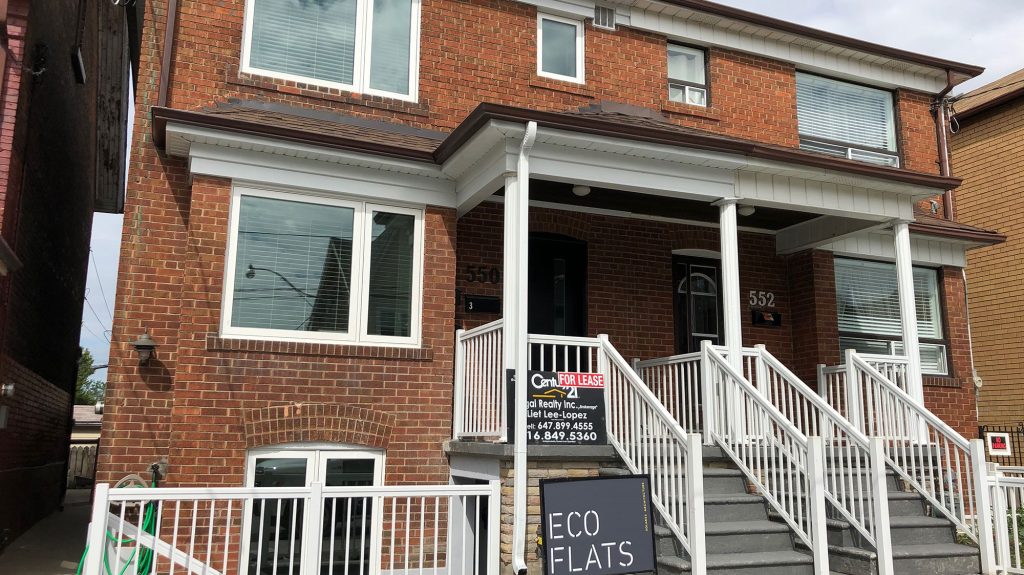 Fitting into Context
For this project we really wanted to fit in with the surrounding properties, and particularly to match the next door semi-attached house, even if that meant keeping the white aluminum railings! White aluminum railings might not be what many people expect from an architect, but even though they might not be our first choice from an aesthetic point of view, we didn't want to send material to the dump without a very practical reason. And the money we saved by keeping the existing railings allowed us to spend more on landscaping at the end of the project, which the neighbours and tenants really appreciate! We also went to great lengths to keep the front porch ceiling and porch light in order to match the neighbour, and we think it presents a nice and consistent feeling when you see it from the sidewalk.
Each two-bedroom unit has its own unique layout, and its own private feel. The house is built with sound-attenuation between the units, keeping up the feeling of privacy for everyone. Luxury and privacy in the city aren't always easy to find, and we wanted to provide that for our tenants. We also hope there will be a nice social atmosphere between them as well, perhaps aided by the fact that they all have their own spaces. At Eco Flats #2 our tenants aren't "on top of each other", even through they're stacked "on top of each other"!

Structure
Envelope
Systems
Interiors
Reveal
Welcome to Eco Flats #2!

Please welcome the newest member of the Eco Flats Empire! Eco Flats #2 is our next super-efficient rental triplex in Toronto. It has three two-bedroom units, and it's our most air-tight project yet!




Same Great Neighbourhood

Continuing the theme of energy efficient conversion projects, Eco Flats #2 started out as a single-family home that hadn't been touched in decades. Its location, size, and great bones made it a clear winner for our next Eco Flats project. It has immediate access to the Dufferin bus and the Dundas and Queen streetcar lines, and the Dufferin subway and Exhibition GO stations are just a twenty-minute walk away.

In the neighbourhood are plenty of great cafes, restaurants. Just around the corner is Mary McCormick park and community centre with skating rink, playground, and summertime wading pool. An extra bonus is that it's easy walking distance from the Solares office and Eco Flats #1. We couldn't pass up this property!

Another All-Electric Building

We decided to keep to the existing building size of this semi-detached house. We used the two storeys plus basement to create three distinct apartments, one on each level. Each unit has two bedrooms, one washroom, open-concept kitchen/living/dining, ample storage, in-suite laundry, and a mechanical closet containing its own HVAC systems.

This building, like Eco Flats #1, does not have on-site parking. It does, however, have a spacious backyard with a walk-out from the main floor apartment, and we created a patio off the upper level apartment.  Each unit has its own private entrance: the lower level enters through a sizeable walk-out from the front; the main floor unit's "front" door is at the back; and the upper unit uses the original front entrance of the house.

This project is also completely electric. Since the renovation is so energy efficient, well insulated, and airtight, electricity consumption for heating and cooling will be minimal. And when we say air-tight, we mean the most air-tight building envelope we've ever done! (Sneak peak to the Envelope post: Eco Flats #2 achieved 0.34 ACH!!)

Another great feature of this triplex is that each unit has its own controls for heating and cooling. Our tenants will be able to make their individual apartments suit their own comfort needs!

We're thrilled to share this latest Eco Flats project with you. We will tell you so much more about it in the coming cast study posts. And eventually, we will show you the final reveal! Up next we'll talk about the floor plans and design of this super-efficient rental conversion!

And for Our Next Triplex, Here's Eco Flats #2!

Another triplex joins the Eco Flats family! Eco Flats #2 is our next stacked triplex, and this time all three units are full two-bedroom apartments! They are designed to suit individuals and couples who want extra space for guests or a home office, or roommates and families who need two dedicated bedrooms. It was important to us to create larger apartments that can be flexible for different kinds of occupants.

The first interesting thing we've done here is with the entrances. For Eco Flats #2, we really wanted to create suites with their own private and unique entrances. The lower level has a spacious entrance at the front of the house, with a wide staircase leading down to a large landing area with a glass-panel front door. The main floor unit has it's "front door" at the back of the house with access down the side and through the backyard. The upper apartment uses the traditional front door on the Dufferin Street porch, which opens onto a staircase that leads straight up to the upper Living/Kitchen/Dining area.

The entrance configurations determined, in part, how the spaces are arranged in each unit. For the top two units, the living spaces are at the back where their main entrances open on to. They also each face out to their own private outdoor space at the back of the house: the backyard for the main floor and a rear deck for the upper unit. Since the lower level opens directly into the front of the floor plan, it's living/kitchen/dining area is at the front facing Dufferin Street, with the bedrooms located at the back.

Each unit's layout also includes an open-concept living/kitchen/dining area, full washroom with large bathtub, private in-suite laundry, lots of closet space, and a dedicated mechanical room with its own individual HVAC controls. The ability to have fully independent heating and cooling controls was very important to us, but more on that in the Systems post!




Fitting into Context

For this project we really wanted to fit in with the surrounding properties, and particularly to match the next door semi-attached house, even if that meant keeping the white aluminum railings! White aluminum railings might not be what many people expect from an architect, but even though they might not be our first choice from an aesthetic point of view, we didn't want to send material to the dump without a very practical reason. And the money we saved by keeping the existing railings allowed us to spend more on landscaping at the end of the project, which the neighbours and tenants really appreciate! We also went to great lengths to keep the front porch ceiling and porch light in order to match the neighbour, and we think it presents a nice and consistent feeling when you see it from the sidewalk.

Each two-bedroom unit has its own unique layout, and its own private feel. The house is built with sound-attenuation between the units, keeping up the feeling of privacy for everyone. Luxury and privacy in the city aren't always easy to find, and we wanted to provide that for our tenants. We also hope there will be a nice social atmosphere between them as well, perhaps aided by the fact that they all have their own spaces. At Eco Flats #2 our tenants aren't "on top of each other", even through they're stacked "on top of each other"!


Structure

Envelope

Systems

Interiors

Reveal