Welcome to Eco Flats #2!

Please welcome the newest member of the Eco Flats Empire! Eco Flats #2 is our next super-efficient rental triplex in Toronto. It has three two-bedroom units, and it's our most air-tight project yet!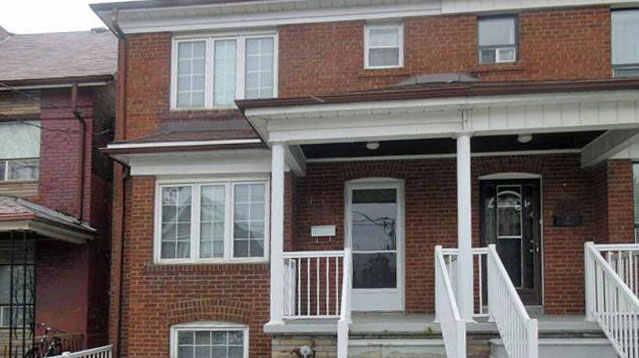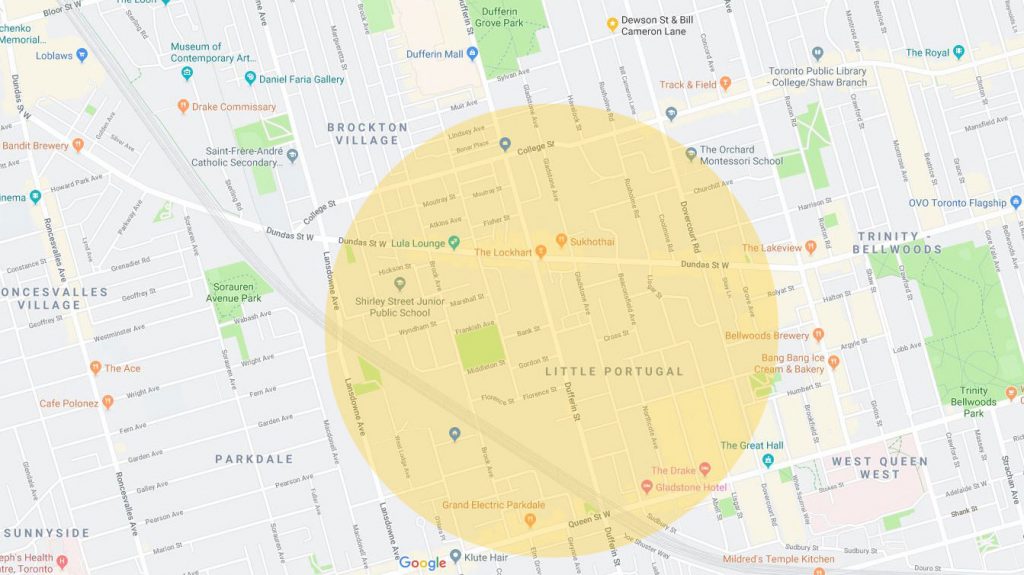 Same Great Neighbourhood
Continuing the theme of energy efficient conversion projects, Eco Flats #2 started out as a single-family home that hadn't been touched in decades. Its location, size, and great bones made it a clear winner for our next Eco Flats project. It has immediate access to the Dufferin bus and the Dundas and Queen streetcar lines, and the Dufferin subway and Exhibition GO stations are just a twenty-minute walk away.
In the neighbourhood are plenty of great cafes, restaurants. Just around the corner is Mary McCormick park and community centre with skating rink, playground, and summertime wading pool. An extra bonus is that it's easy walking distance from the Solares office and Eco Flats #1. We couldn't pass up this property!
Another All-Electric Building
We decided to keep to the existing building size of this semi-detached house. We used the two storeys plus basement to create three distinct apartments, one on each level. Each unit has two bedrooms, one washroom, open-concept kitchen/living/dining, ample storage, in-suite laundry, and a mechanical closet containing its own HVAC systems.
This building, like Eco Flats #1, does not have on-site parking. It does, however, have a spacious backyard with a walk-out from the main floor apartment, and we created a patio off the upper level apartment.  Each unit has its own private entrance: the lower level enters through a sizeable walk-out from the front; the main floor unit's "front" door is at the back; and the upper unit uses the original front entrance of the house.
This project is also completely electric. Since the renovation is so energy efficient, well insulated, and airtight, electricity consumption for heating and cooling will be minimal. And when we say air-tight, we mean the most air-tight building envelope we've ever done! (Sneak peak to the Envelope post: Eco Flats #2 achieved 0.34 ACH!!)
Another great feature of this triplex is that each unit has its own controls for heating and cooling. Our tenants will be able to make their individual apartments suit their own comfort needs!
We're thrilled to share this latest Eco Flats project with you. We will tell you so much more about it in the coming cast study posts. And eventually, we will show you the final reveal! Up next we'll talk about the floor plans and design of this super-efficient rental conversion!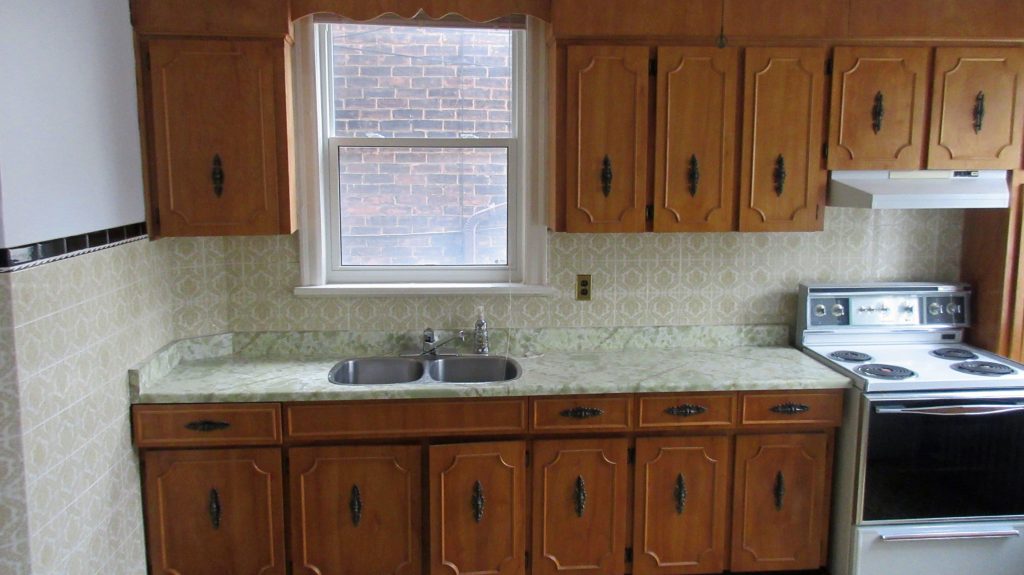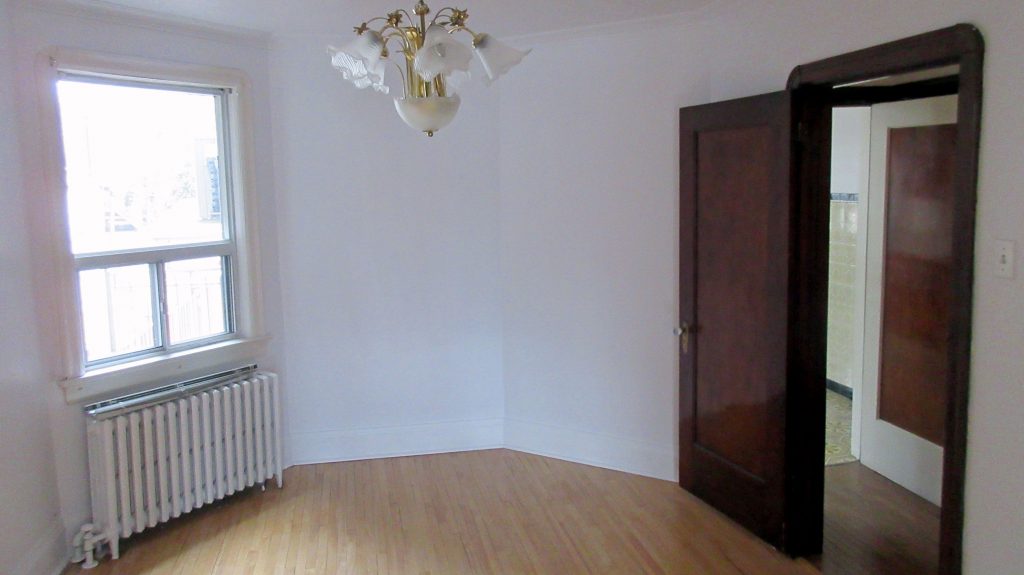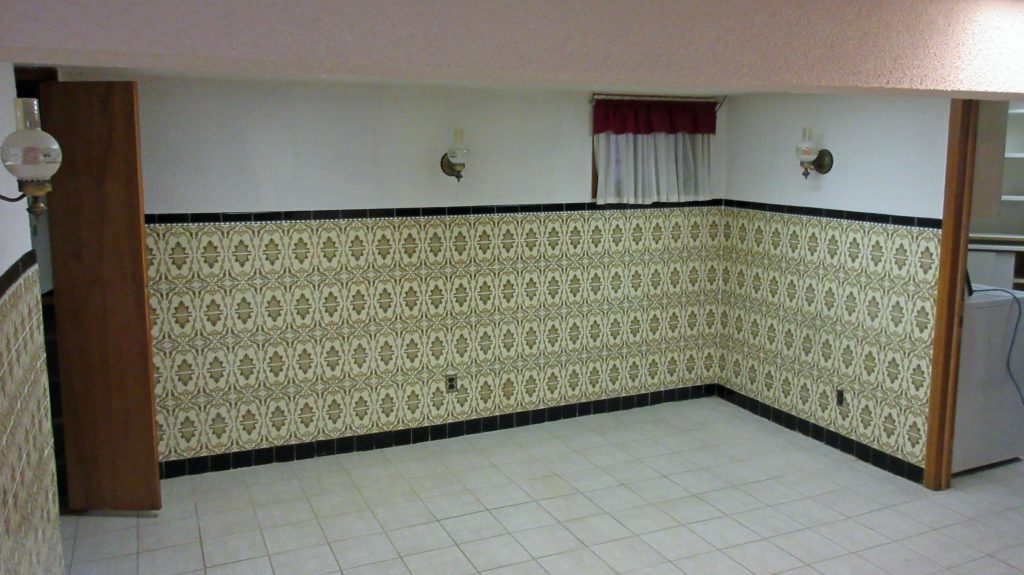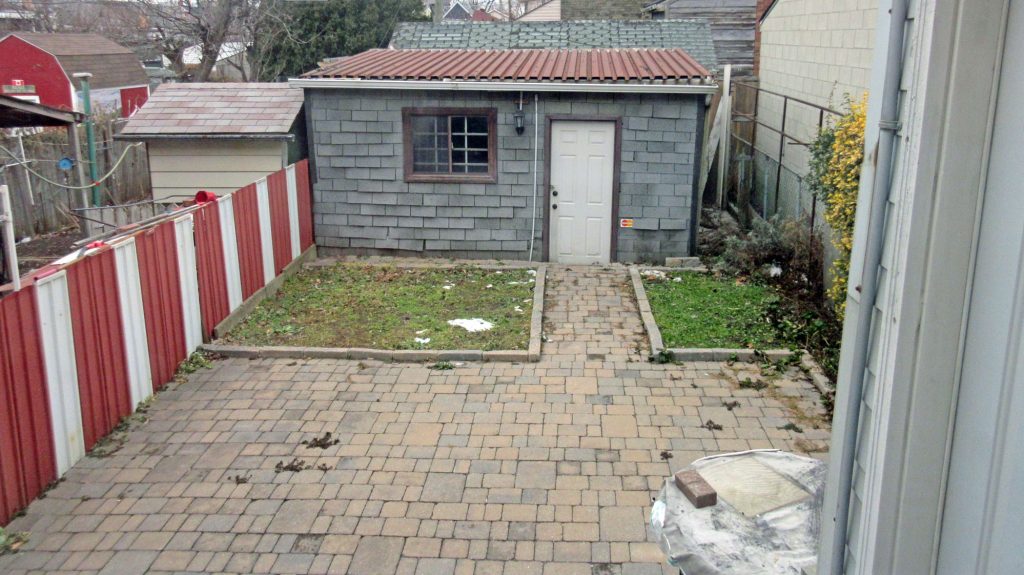 And for Our Next Triplex, Here's Eco Flats #2!

Another triplex joins the Eco Flats family! Eco Flats #2 is our next stacked triplex, and this time all three units are full two-bedroom apartments! They are designed to suit individuals and couples who want extra space for guests or a home office, or roommates and families who need two dedicated bedrooms. It was important to us to create larger apartments that can be flexible for different kinds of occupants.

The first interesting thing we've done here is with the entrances. For Eco Flats #2, we really wanted to create suites with their own private and unique entrances. The lower level has a spacious entrance at the front of the house, with a wide staircase leading down to a large landing area with a glass-panel front door. The main floor unit has it's "front door" at the back of the house with access down the side and through the backyard. The upper apartment uses the traditional front door on the Dufferin Street porch, which opens onto a staircase that leads straight up to the upper Living/Kitchen/Dining area.

The entrance configurations determined, in part, how the spaces are arranged in each unit. For the top two units, the living spaces are at the back where their main entrances open on to. They also each face out to their own private outdoor space at the back of the house: the backyard for the main floor and a rear deck for the upper unit. Since the lower level opens directly into the front of the floor plan, it's living/kitchen/dining area is at the front facing Dufferin Street, with the bedrooms located at the back.

Each unit's layout also includes an open-concept living/kitchen/dining area, full washroom with large bathtub, private in-suite laundry, lots of closet space, and a dedicated mechanical room with its own individual HVAC controls. The ability to have fully independent heating and cooling controls was very important to us, but more on that in the Systems post!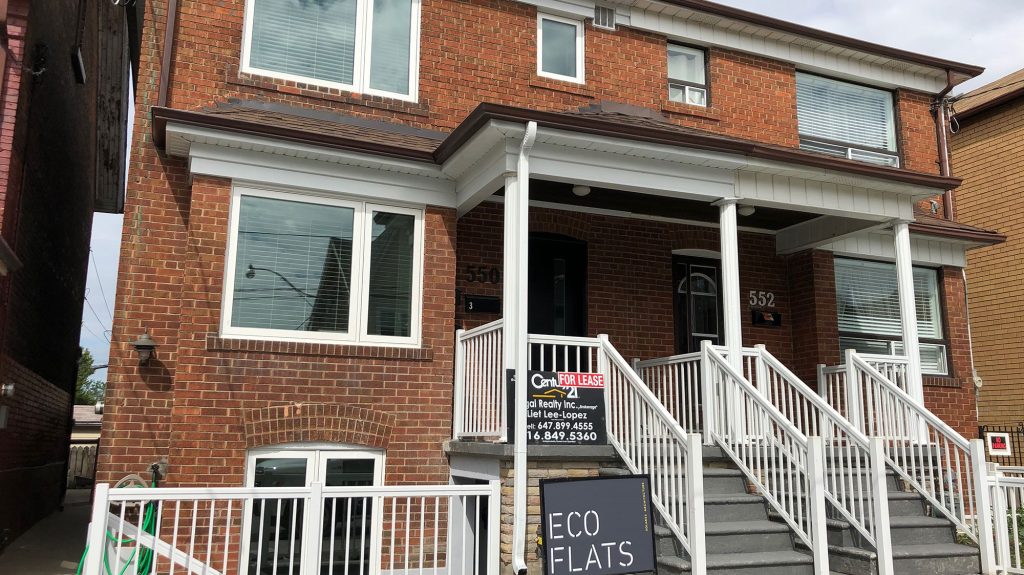 Fitting into Context
For this project we really wanted to fit in with the surrounding properties, and particularly to match the next door semi-attached house, even if that meant keeping the white aluminum railings! White aluminum railings might not be what many people expect from an architect, but even though they might not be our first choice from an aesthetic point of view, we didn't want to send material to the dump without a very practical reason. And the money we saved by keeping the existing railings allowed us to spend more on landscaping at the end of the project, which the neighbours and tenants really appreciate! We also went to great lengths to keep the front porch ceiling and porch light in order to match the neighbour, and we think it presents a nice and consistent feeling when you see it from the sidewalk.
Each two-bedroom unit has its own unique layout, and its own private feel. The house is built with sound-attenuation between the units, keeping up the feeling of privacy for everyone. Luxury and privacy in the city aren't always easy to find, and we wanted to provide that for our tenants. We also hope there will be a nice social atmosphere between them as well, perhaps aided by the fact that they all have their own spaces. At Eco Flats #2 our tenants aren't "on top of each other", even through they're stacked "on top of each other"!

Private, bright and resourceful: The structure at Eco Flats 2.0

At Eco Flats 2.0, a lot of thought and strategy went into turning the original building into three beautiful rental apartments. We tried to use as much of the original building as we could, and to work around existing openings and roof lines. We think we did a great job with this one.

Eco Flats 2.0 has three 8' high levels with large windows on three sides. We always want our basement apartments to have high ceilings and to let in as much light as possible. The great thing about this property is that the house was already quite high out of the ground. We didn't have to dig window wells on the outside and we still got huge windows in the lower level.

While the window heights off the ground were there, the basement floor-to-ceiling height was only 6'-6" in the original building, so the first thing we did was to underpin and lower the floor. To do so we had to take out the existing beams and put in new ones. We also installed new posts and footings. Our neighbour in the attached house was very supportive, and happy that we were underpinning his house while we were at it!

The existing basement had a huge steel beam going through it, which we didn't need. It was awkwardly dropped below the joists and in a position that didn't work with our design. We removed the steel beam and replaced it with a new Laminate Veneer Lumber (LVL) beam. The span required in this case can definitely be done with wood, and we think that whenever you can do something in wood, you probably should. We want to do what we can support an ethical and sustainable forestry industry. Removing the original beam wasn't easy though. We had to build two walls to support the floor above before we could remove it, then cut out all the joists, lower the beam, take out the columns that were supporting it, drop the beam, and then carry it out.

Upstairs, the existing flat roof at the rear was only a few years old, so we left the roofing on and only reframed and reinforced it with new wood underneath. We then filled it with closed-cell spray-foam insulation because that was the only way to properly insulate it. More on that in the envelope post!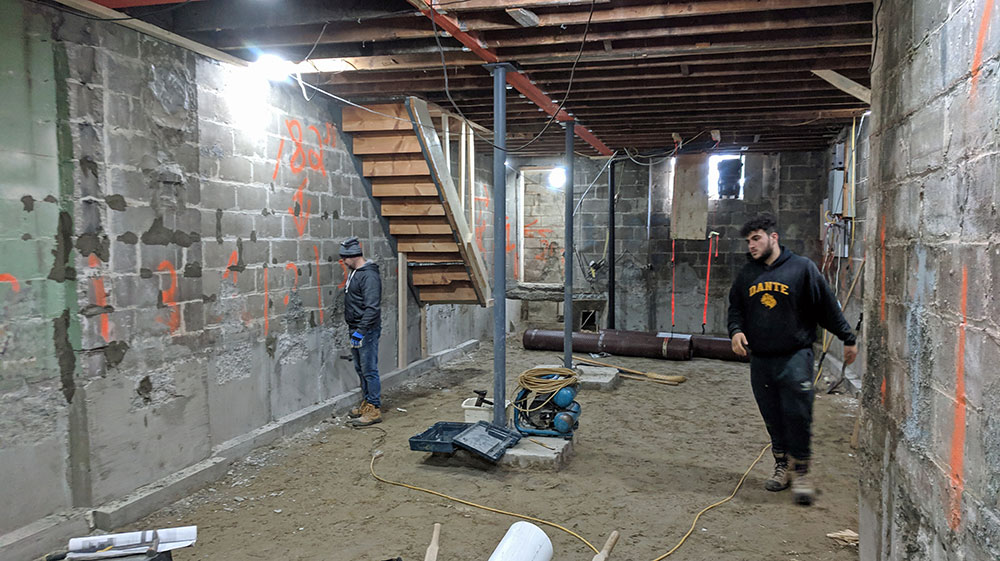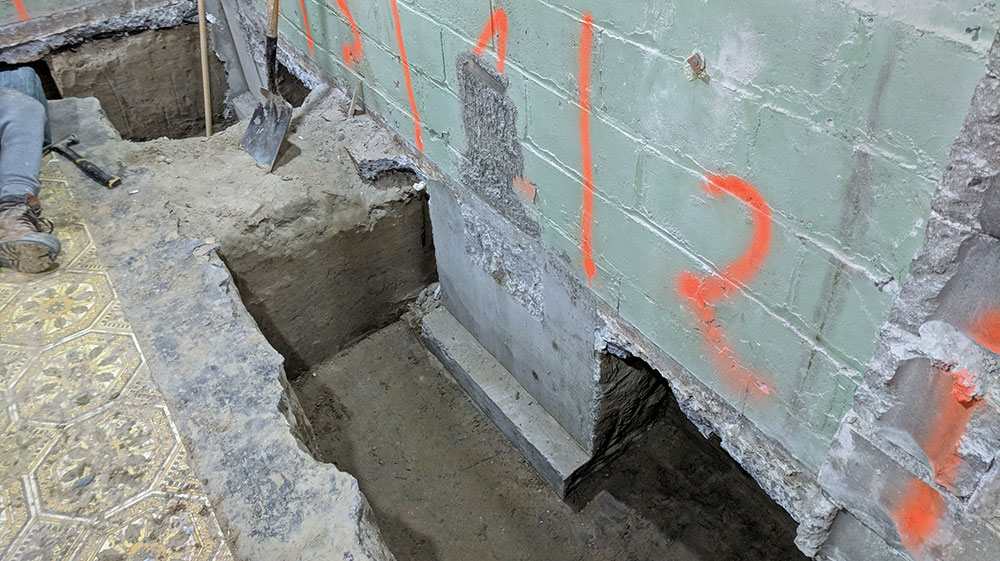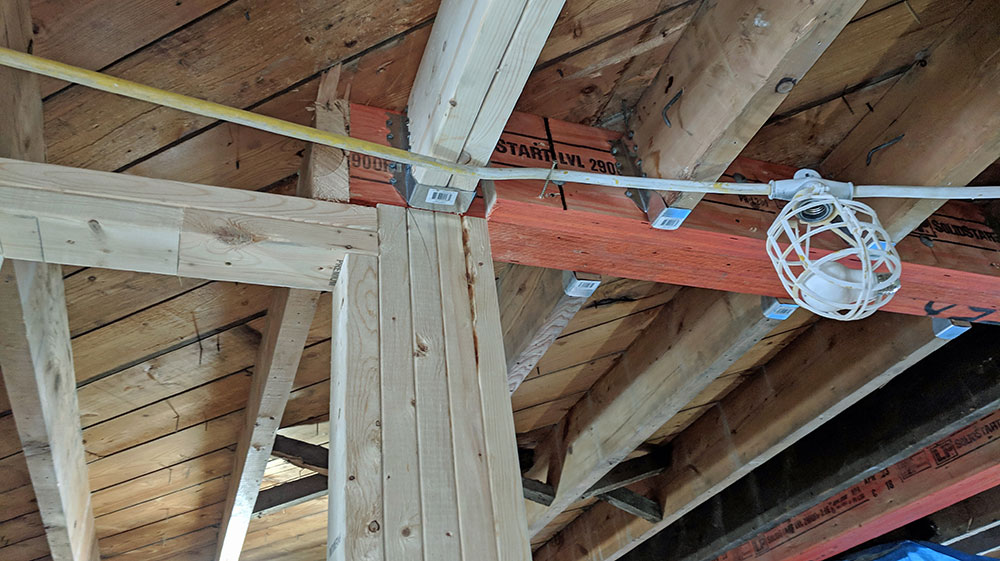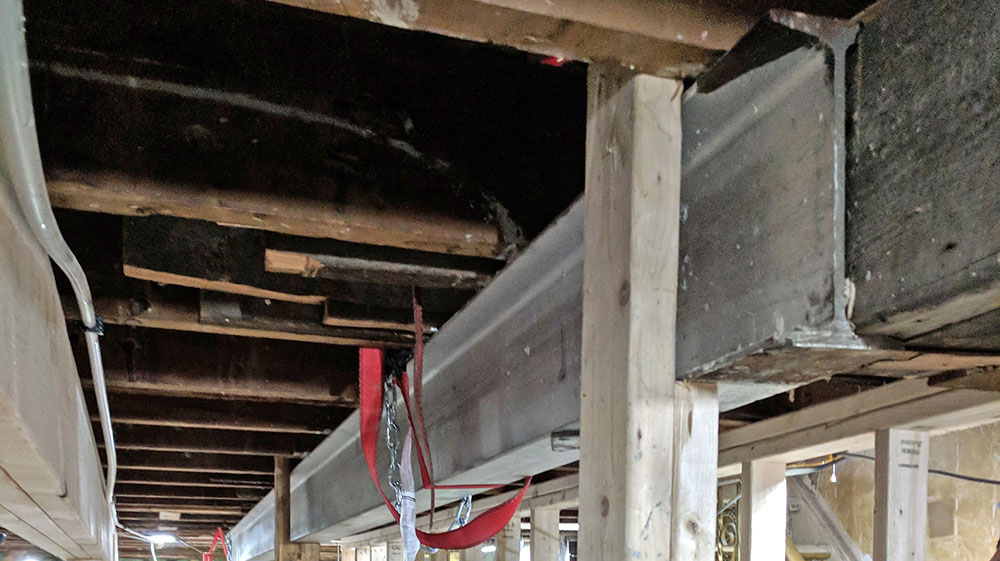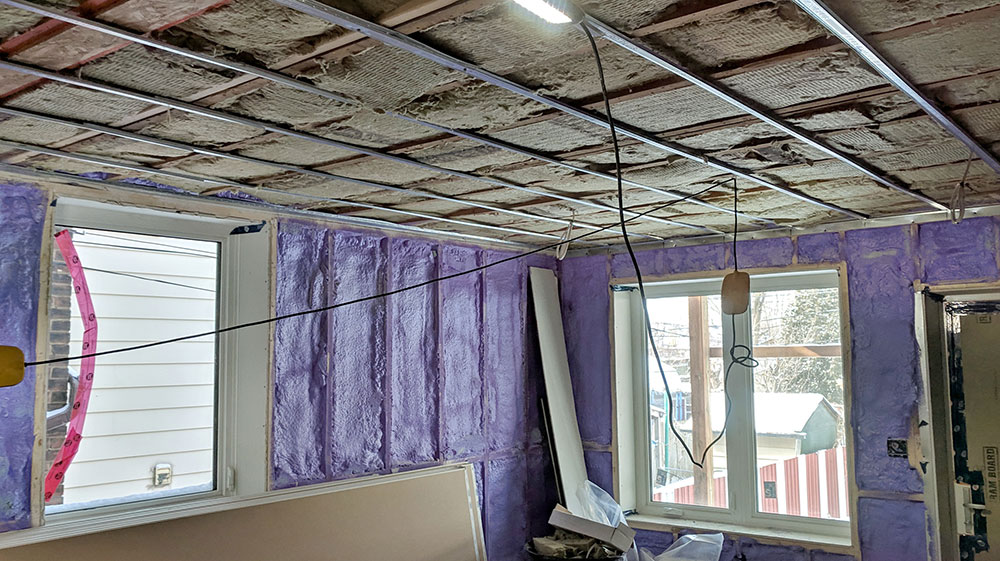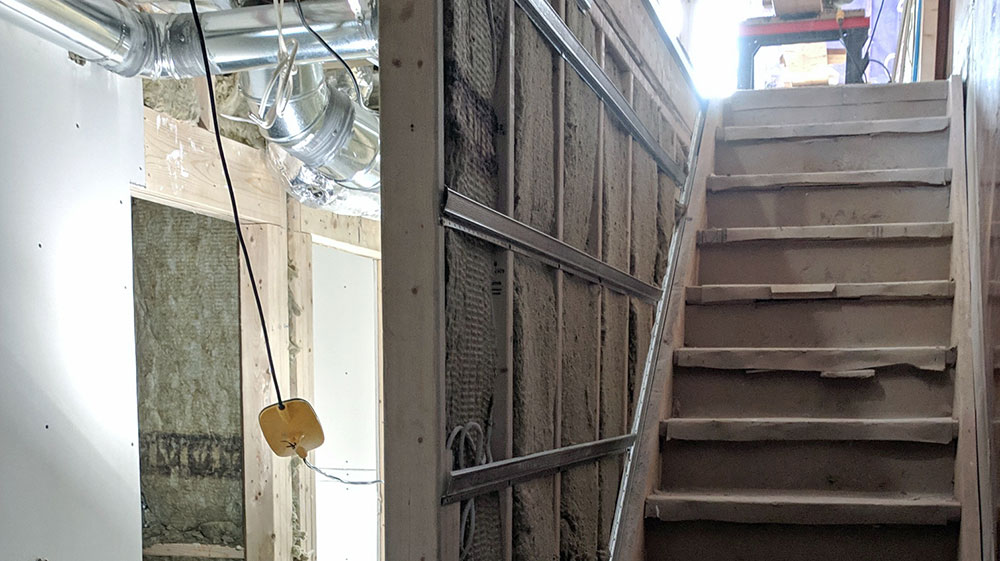 Quiet, peaceful apartments
We wanted our tenants to enjoy as much peace and quiet as possible, so sound attenuation between the units was very important to us. Between the units we've put a layer of 5/8th-inch plywood on top of the floor structure, which adds more solidity. Below that is a layer of 3-inch mineral wool with resilient channel (metal tracks) underneath, and sitting on those is 5/8th-inch drywall. It's a standard 45-minute rating between units, but it also gives you very good sound attenuation. The fire separation has to be continuous, so the drywall goes right to the walls. There's quite a bit of planning and coordination to do this and get the ducts through to where they're needed.
Stairs are a place where you often hear a lot of noise in rental buildings. We put in a brand-new, well-built staircase and took a lot of care to secure it firmly to the wall to prevent any creaking and squeaking. We even went so far as to bolt it into the wall with epoxy anchors. It's easy enough to do, but it's atypical. We're proud of our silent staircase! 
Reuse of materials
While we tried to use as many of the existing window openings as we could, there was still a fair amount of masonry work in this renovation. We used as much existing brick and concrete block as we could from the original house itself. For example, there was a concrete block wall in the rear of the basement that we didn't need, so we were able to salvage those blocks and use them elsewhere in the building.
The steel beam that we removed from the basement was a concern, as we really didn't want it to go to the scrap yard. We tried so hard to reuse it on site, but in the end we simply couldn't. After lots of searching, we eventually found someone who wanted to turn it into a gate. Problem solved!
So, there you have it. The structure of Eco Flats 2.0 prioritizes light, privacy and quiet for our tenants. Next we'll talk about the building envelope and how air-tight this building is!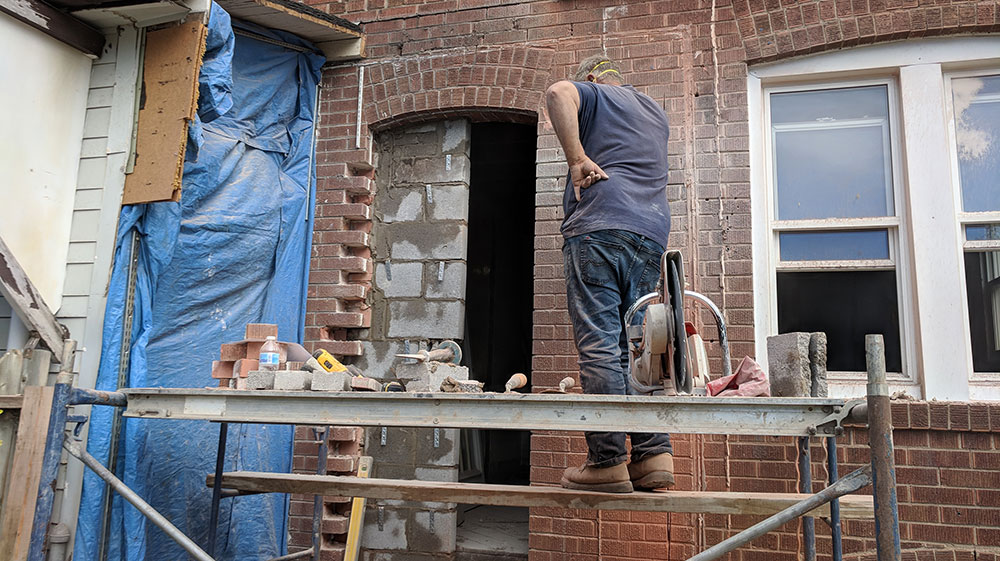 The envelope at Eco Flats 2.0: Seal it tight!

Eco-Flats 2.0 is not just extremely well insulated – it's our most air-tight envelope for a renovation project to date! The building started with a leakage rate of 10 ACH before construction. After construction, including Tom's thorough air sealing process, that number dropped to 0.34 ACH – a major success! Once the ducts were installed, the ACH did go up a bit to about 0.6 due to some unavoidable leaks in the intake and exhaust ducts. However, we still met the Passive House requirement for newly built homes – in a reno no less – and we are very proud of this achievement!

The secret to our success is not just one magic product – it's a combination of Tom's diligence and ingenuity, coupled with some great products and technologies. Tom worked everything out in advance to create a system for air sealing the building. First, he thoroughly inspected the whole building and identified challenging areas. These are typically areas where two planes intersect, like floor and wall, and tight, hard to reach corners. Then, he targeted those areas first using air barrier tapes, parging, acoustic sealant and, in larger areas, a first pass of spray foam. He then had a blower door test done, which he followed up with a second pass around the aforementioned tricky spots. But wait, there's more! He did another blower door test, then did the balance of the spray foam, then did a fourth blower door test, and THEN applied AeroBarrier, which pushed the airtightness down even further at that point from 1ACH to 0.34ACH.

Now let's talk about AeroBarrier! It's a fairly new technology, and we are very happy with its results! It's a product and a system, all in one. The product is a water-based, non-toxic sealant, and the system is the way in which it's applied: the sealant gets "misted" through a special spray system inside a building pressurized to 100 Pa. Like a dense fog, the atomized caulking floats around and gets sucked into even the tiniest of holes in the envelope. As it passes through the hole, it coagulates and blocks the hole completely. It's so effective that it will even seal holes that are as large as half an inch in diameter. After 20 minutes, any of the product that hasn't been utilized, harmlessly falls to the ground where it gets swept up.

For Eco Flats 2.0, we used AeroBarrier before insulation and drywall were installed. In this way, we were able to plug all tiny pinholes that result from slight imperfections in the envelope, doing more than we could do by hand!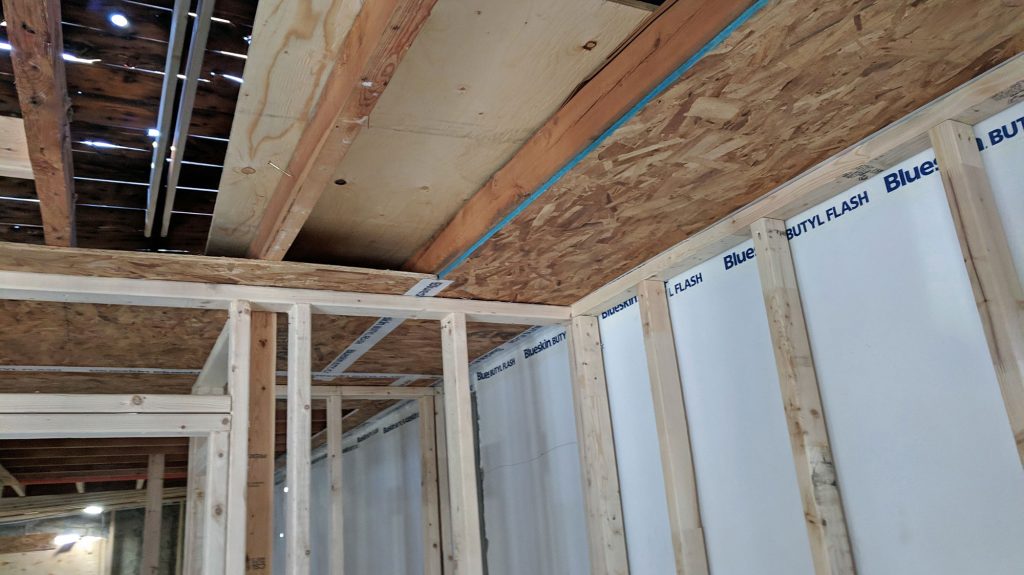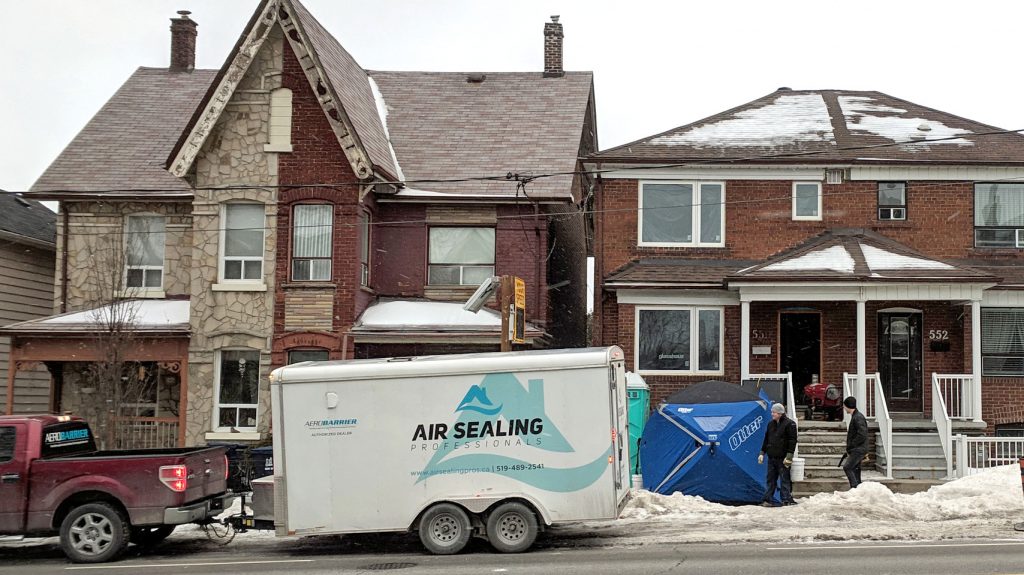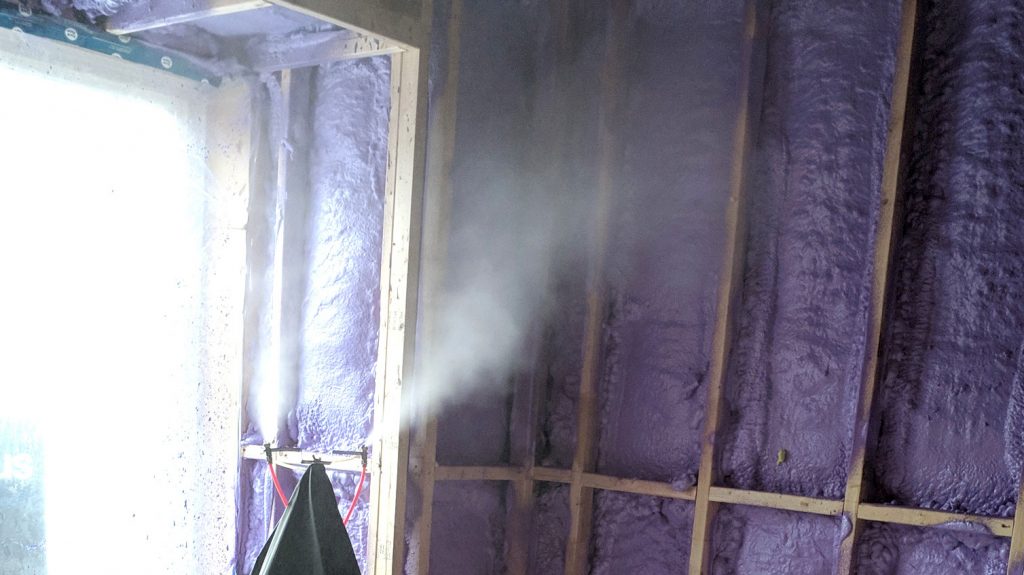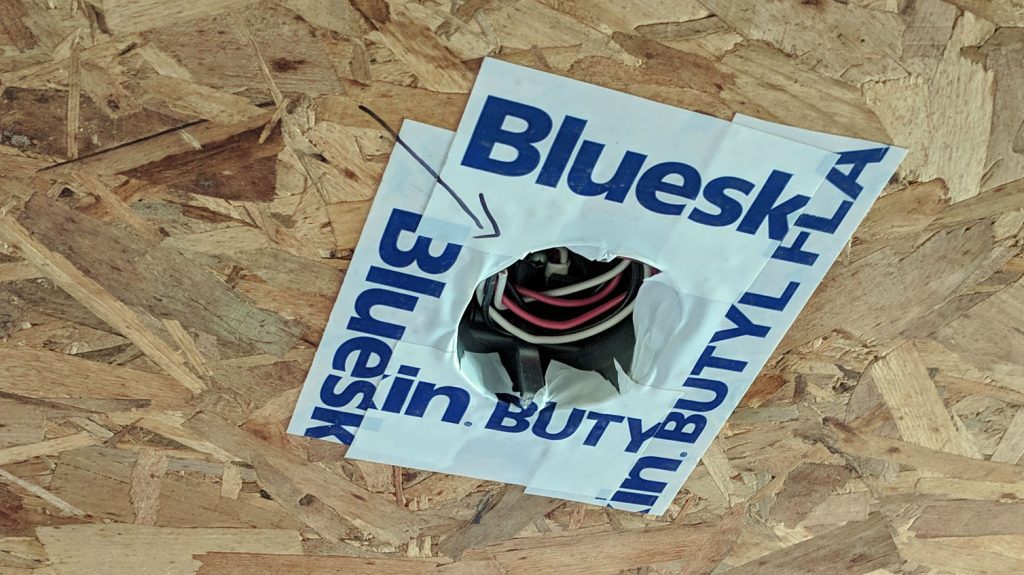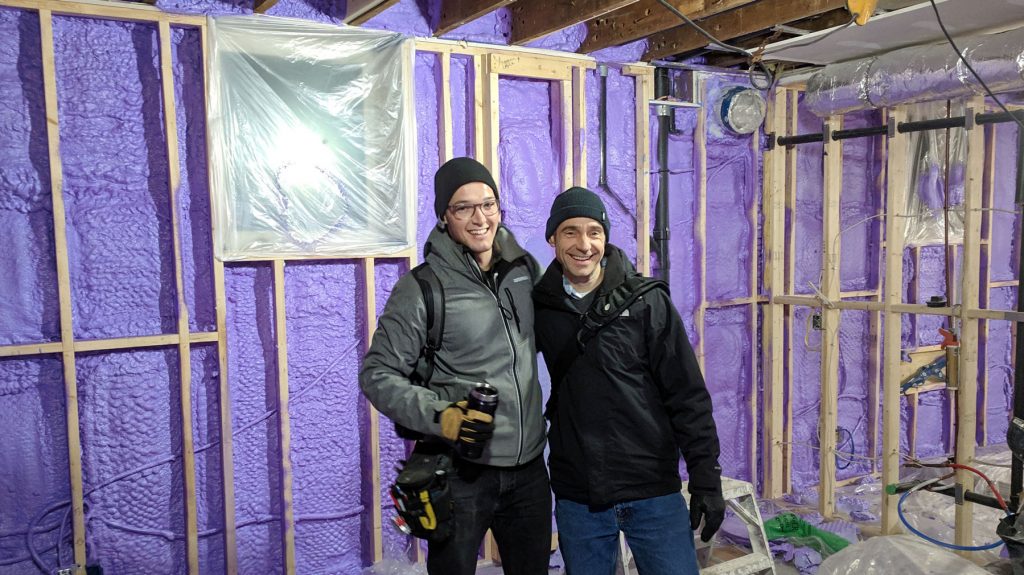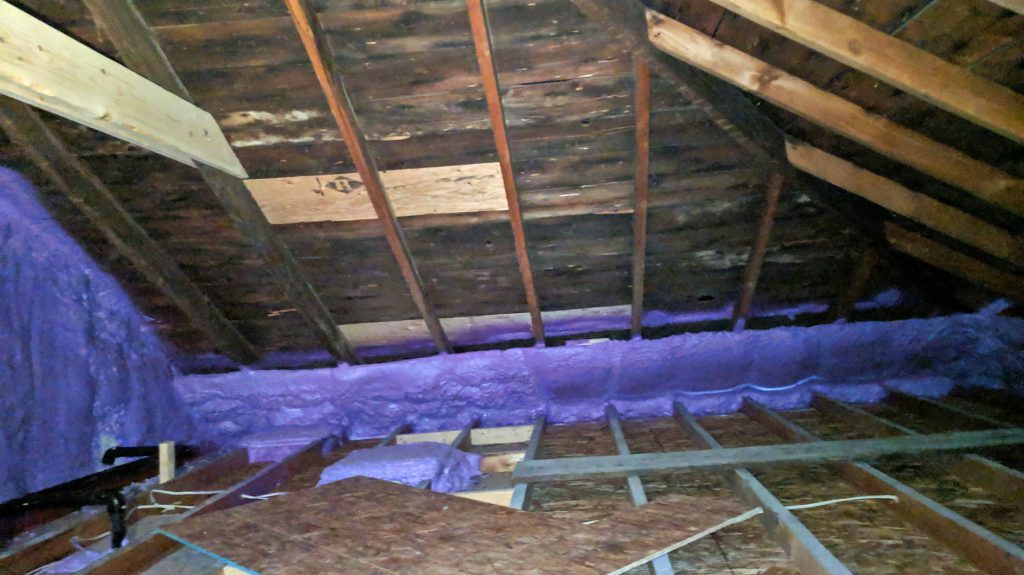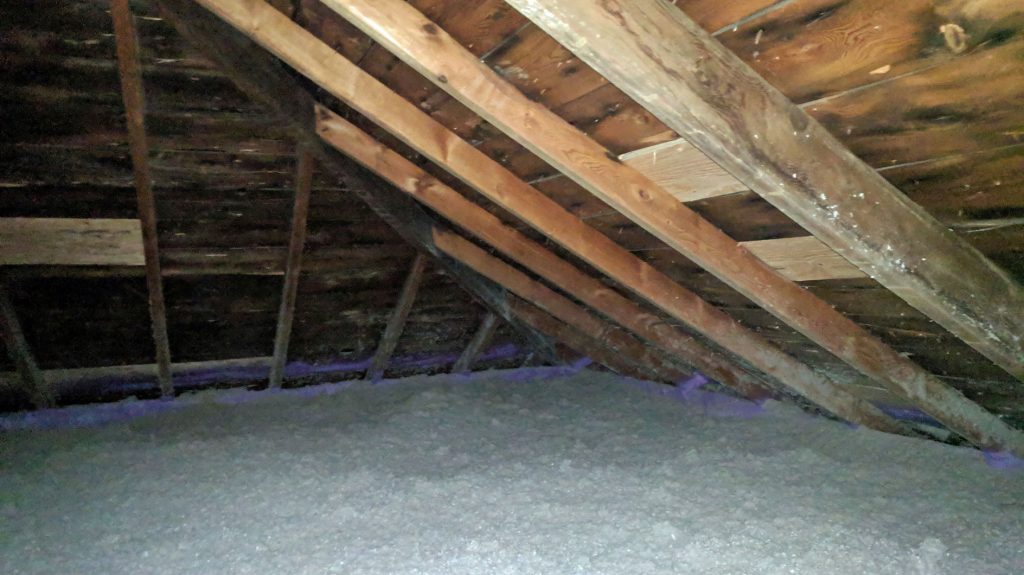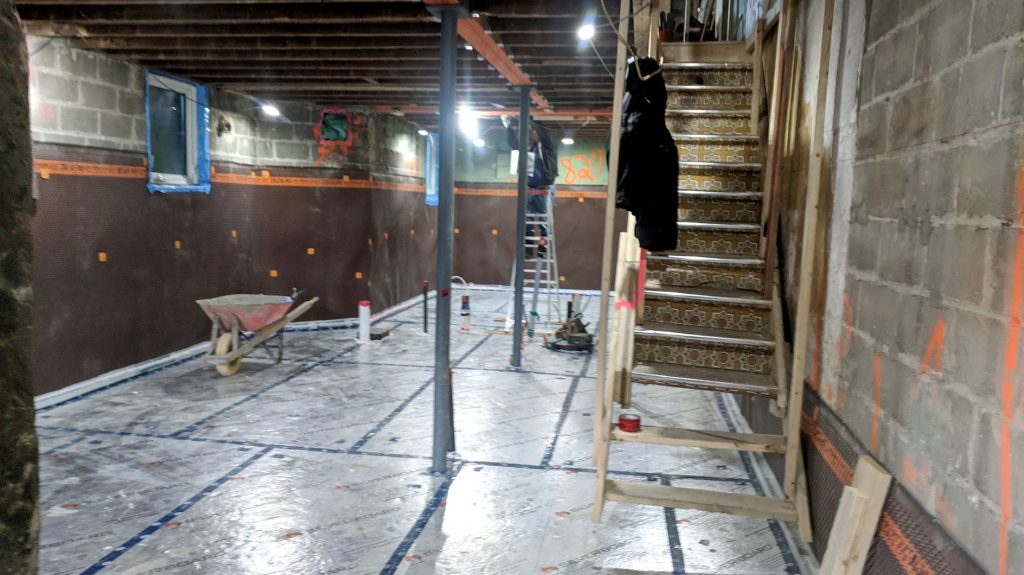 And Insulate it right!
Let's start at the top: The existing roof at the back of the house is a flat roof. Since the existing roofing was only a few years old, we decided to keep it in place to minimize waste and cost. It was underneath the roofing that required more of our attention. We reframed and reinforced the flat roof with new wood, and then filled it with closed-cell spray foam insulation. Using spray foam was really the only way to properly insulate the flat roof, since we couldn't provide proper venting to that area. While we are trying to minimize our use of spray foam – to reduce our use of fossil fuels – it is still the best product in certain circumstances, like flat roofs.
The remainder of the roof is pitched, and for that we went with blown-in cellulose insulation instead of spray-foam. For the roof's air and vapour barrier, we used sheets of oriented strand board (OSB) wood that we taped together to create a seal. OSB is a great alternative to plastic sheeting, as it's rigid and more reliably taped, and you can strap things down to it directly without compromising the barrier, like electrical cabling and pot lights. When we did the testing, it performed very well! The trick here is the detail: Before we framed the walls against the existing masonry, we taped strips of OSB all along the perimeter. This provided the continuous air seal we needed. Then, when it was time to frame the walls, we framed them right up to the underside of the OSB strips.
For the walls (particularly the party wall), there was existing plaster, which is actually quite a good air seal. One of the first things we did was to fix up the plaster on the interior walls, as we didn't want to destroy what was already there and working well. Wherever we did need to penetrate it, we went to town on the air sealing!
The framed walls along the exterior sit 5.5 inches from the masonry, so from the back of the drywall to the inside face of the brick is 5.5 inches. Nominally, this gives us 5 inches of insulation throughout. We used 2x3 finger jointed pine studs, which are 2.5 inches, whereas regular SPF (spruce pine fir) 2x4 studs are 3.5 inches. Finger jointed only come in 8-foot lengths (otherwise it's special order), but since this building has lower ceilings, it was a great fit for us! Since the studs are 2.5 inches, this means we have 3 inches of completely continuous, spray-foam insulation. If we'd used SPF, we would have had half that. In the lower level, there are 6 inches of insulation under the slab, and the foundation walls are also insulated with spray-foam.
Eco Flats 2.0 is an extremely well insulated building. Even though we weren't able to eliminate the use of spray-foam entirely, we used it less than we would have in the past, and we didn't sacrifice insulation levels or a well-sealed envelope. Our tenants won't need much in the way of heating or cooling to stay comfortable here!
Systems
Interiors
Reveal
Welcome to Eco Flats #2!

Please welcome the newest member of the Eco Flats Empire! Eco Flats #2 is our next super-efficient rental triplex in Toronto. It has three two-bedroom units, and it's our most air-tight project yet!




Same Great Neighbourhood

Continuing the theme of energy efficient conversion projects, Eco Flats #2 started out as a single-family home that hadn't been touched in decades. Its location, size, and great bones made it a clear winner for our next Eco Flats project. It has immediate access to the Dufferin bus and the Dundas and Queen streetcar lines, and the Dufferin subway and Exhibition GO stations are just a twenty-minute walk away.

In the neighbourhood are plenty of great cafes, restaurants. Just around the corner is Mary McCormick park and community centre with skating rink, playground, and summertime wading pool. An extra bonus is that it's easy walking distance from the Solares office and Eco Flats #1. We couldn't pass up this property!

Another All-Electric Building

We decided to keep to the existing building size of this semi-detached house. We used the two storeys plus basement to create three distinct apartments, one on each level. Each unit has two bedrooms, one washroom, open-concept kitchen/living/dining, ample storage, in-suite laundry, and a mechanical closet containing its own HVAC systems.

This building, like Eco Flats #1, does not have on-site parking. It does, however, have a spacious backyard with a walk-out from the main floor apartment, and we created a patio off the upper level apartment.  Each unit has its own private entrance: the lower level enters through a sizeable walk-out from the front; the main floor unit's "front" door is at the back; and the upper unit uses the original front entrance of the house.

This project is also completely electric. Since the renovation is so energy efficient, well insulated, and airtight, electricity consumption for heating and cooling will be minimal. And when we say air-tight, we mean the most air-tight building envelope we've ever done! (Sneak peak to the Envelope post: Eco Flats #2 achieved 0.34 ACH!!)

Another great feature of this triplex is that each unit has its own controls for heating and cooling. Our tenants will be able to make their individual apartments suit their own comfort needs!

We're thrilled to share this latest Eco Flats project with you. We will tell you so much more about it in the coming cast study posts. And eventually, we will show you the final reveal! Up next we'll talk about the floor plans and design of this super-efficient rental conversion!

And for Our Next Triplex, Here's Eco Flats #2!

Another triplex joins the Eco Flats family! Eco Flats #2 is our next stacked triplex, and this time all three units are full two-bedroom apartments! They are designed to suit individuals and couples who want extra space for guests or a home office, or roommates and families who need two dedicated bedrooms. It was important to us to create larger apartments that can be flexible for different kinds of occupants.

The first interesting thing we've done here is with the entrances. For Eco Flats #2, we really wanted to create suites with their own private and unique entrances. The lower level has a spacious entrance at the front of the house, with a wide staircase leading down to a large landing area with a glass-panel front door. The main floor unit has it's "front door" at the back of the house with access down the side and through the backyard. The upper apartment uses the traditional front door on the Dufferin Street porch, which opens onto a staircase that leads straight up to the upper Living/Kitchen/Dining area.

The entrance configurations determined, in part, how the spaces are arranged in each unit. For the top two units, the living spaces are at the back where their main entrances open on to. They also each face out to their own private outdoor space at the back of the house: the backyard for the main floor and a rear deck for the upper unit. Since the lower level opens directly into the front of the floor plan, it's living/kitchen/dining area is at the front facing Dufferin Street, with the bedrooms located at the back.

Each unit's layout also includes an open-concept living/kitchen/dining area, full washroom with large bathtub, private in-suite laundry, lots of closet space, and a dedicated mechanical room with its own individual HVAC controls. The ability to have fully independent heating and cooling controls was very important to us, but more on that in the Systems post!




Fitting into Context

For this project we really wanted to fit in with the surrounding properties, and particularly to match the next door semi-attached house, even if that meant keeping the white aluminum railings! White aluminum railings might not be what many people expect from an architect, but even though they might not be our first choice from an aesthetic point of view, we didn't want to send material to the dump without a very practical reason. And the money we saved by keeping the existing railings allowed us to spend more on landscaping at the end of the project, which the neighbours and tenants really appreciate! We also went to great lengths to keep the front porch ceiling and porch light in order to match the neighbour, and we think it presents a nice and consistent feeling when you see it from the sidewalk.

Each two-bedroom unit has its own unique layout, and its own private feel. The house is built with sound-attenuation between the units, keeping up the feeling of privacy for everyone. Luxury and privacy in the city aren't always easy to find, and we wanted to provide that for our tenants. We also hope there will be a nice social atmosphere between them as well, perhaps aided by the fact that they all have their own spaces. At Eco Flats #2 our tenants aren't "on top of each other", even through they're stacked "on top of each other"!


Private, bright and resourceful: The structure at Eco Flats 2.0

At Eco Flats 2.0, a lot of thought and strategy went into turning the original building into three beautiful rental apartments. We tried to use as much of the original building as we could, and to work around existing openings and roof lines. We think we did a great job with this one.

Eco Flats 2.0 has three 8' high levels with large windows on three sides. We always want our basement apartments to have high ceilings and to let in as much light as possible. The great thing about this property is that the house was already quite high out of the ground. We didn't have to dig window wells on the outside and we still got huge windows in the lower level.

While the window heights off the ground were there, the basement floor-to-ceiling height was only 6'-6" in the original building, so the first thing we did was to underpin and lower the floor. To do so we had to take out the existing beams and put in new ones. We also installed new posts and footings. Our neighbour in the attached house was very supportive, and happy that we were underpinning his house while we were at it!

The existing basement had a huge steel beam going through it, which we didn't need. It was awkwardly dropped below the joists and in a position that didn't work with our design. We removed the steel beam and replaced it with a new Laminate Veneer Lumber (LVL) beam. The span required in this case can definitely be done with wood, and we think that whenever you can do something in wood, you probably should. We want to do what we can support an ethical and sustainable forestry industry. Removing the original beam wasn't easy though. We had to build two walls to support the floor above before we could remove it, then cut out all the joists, lower the beam, take out the columns that were supporting it, drop the beam, and then carry it out.

Upstairs, the existing flat roof at the rear was only a few years old, so we left the roofing on and only reframed and reinforced it with new wood underneath. We then filled it with closed-cell spray-foam insulation because that was the only way to properly insulate it. More on that in the envelope post!




Quiet, peaceful apartments

We wanted our tenants to enjoy as much peace and quiet as possible, so sound attenuation between the units was very important to us. Between the units we've put a layer of 5/8th-inch plywood on top of the floor structure, which adds more solidity. Below that is a layer of 3-inch mineral wool with resilient channel (metal tracks) underneath, and sitting on those is 5/8th-inch drywall. It's a standard 45-minute rating between units, but it also gives you very good sound attenuation. The fire separation has to be continuous, so the drywall goes right to the walls. There's quite a bit of planning and coordination to do this and get the ducts through to where they're needed.

Stairs are a place where you often hear a lot of noise in rental buildings. We put in a brand-new, well-built staircase and took a lot of care to secure it firmly to the wall to prevent any creaking and squeaking. We even went so far as to bolt it into the wall with epoxy anchors. It's easy enough to do, but it's atypical. We're proud of our silent staircase! 

Reuse of materials

While we tried to use as many of the existing window openings as we could, there was still a fair amount of masonry work in this renovation. We used as much existing brick and concrete block as we could from the original house itself. For example, there was a concrete block wall in the rear of the basement that we didn't need, so we were able to salvage those blocks and use them elsewhere in the building.

The steel beam that we removed from the basement was a concern, as we really didn't want it to go to the scrap yard. We tried so hard to reuse it on site, but in the end we simply couldn't. After lots of searching, we eventually found someone who wanted to turn it into a gate. Problem solved!

So, there you have it. The structure of Eco Flats 2.0 prioritizes light, privacy and quiet for our tenants. Next we'll talk about the building envelope and how air-tight this building is! 

The envelope at Eco Flats 2.0: Seal it tight!

Eco-Flats 2.0 is not just extremely well insulated – it's our most air-tight envelope for a renovation project to date! The building started with a leakage rate of 10 ACH before construction. After construction, including Tom's thorough air sealing process, that number dropped to 0.34 ACH – a major success! Once the ducts were installed, the ACH did go up a bit to about 0.6 due to some unavoidable leaks in the intake and exhaust ducts. However, we still met the Passive House requirement for newly built homes – in a reno no less – and we are very proud of this achievement!

The secret to our success is not just one magic product – it's a combination of Tom's diligence and ingenuity, coupled with some great products and technologies. Tom worked everything out in advance to create a system for air sealing the building. First, he thoroughly inspected the whole building and identified challenging areas. These are typically areas where two planes intersect, like floor and wall, and tight, hard to reach corners. Then, he targeted those areas first using air barrier tapes, parging, acoustic sealant and, in larger areas, a first pass of spray foam. He then had a blower door test done, which he followed up with a second pass around the aforementioned tricky spots. But wait, there's more! He did another blower door test, then did the balance of the spray foam, then did a fourth blower door test, and THEN applied AeroBarrier, which pushed the airtightness down even further at that point from 1ACH to 0.34ACH.

Now let's talk about AeroBarrier! It's a fairly new technology, and we are very happy with its results! It's a product and a system, all in one. The product is a water-based, non-toxic sealant, and the system is the way in which it's applied: the sealant gets "misted" through a special spray system inside a building pressurized to 100 Pa. Like a dense fog, the atomized caulking floats around and gets sucked into even the tiniest of holes in the envelope. As it passes through the hole, it coagulates and blocks the hole completely. It's so effective that it will even seal holes that are as large as half an inch in diameter. After 20 minutes, any of the product that hasn't been utilized, harmlessly falls to the ground where it gets swept up.

For Eco Flats 2.0, we used AeroBarrier before insulation and drywall were installed. In this way, we were able to plug all tiny pinholes that result from slight imperfections in the envelope, doing more than we could do by hand!




And Insulate it right!

Let's start at the top: The existing roof at the back of the house is a flat roof. Since the existing roofing was only a few years old, we decided to keep it in place to minimize waste and cost. It was underneath the roofing that required more of our attention. We reframed and reinforced the flat roof with new wood, and then filled it with closed-cell spray foam insulation. Using spray foam was really the only way to properly insulate the flat roof, since we couldn't provide proper venting to that area. While we are trying to minimize our use of spray foam – to reduce our use of fossil fuels – it is still the best product in certain circumstances, like flat roofs.

The remainder of the roof is pitched, and for that we went with blown-in cellulose insulation instead of spray-foam. For the roof's air and vapour barrier, we used sheets of oriented strand board (OSB) wood that we taped together to create a seal. OSB is a great alternative to plastic sheeting, as it's rigid and more reliably taped, and you can strap things down to it directly without compromising the barrier, like electrical cabling and pot lights. When we did the testing, it performed very well! The trick here is the detail: Before we framed the walls against the existing masonry, we taped strips of OSB all along the perimeter. This provided the continuous air seal we needed. Then, when it was time to frame the walls, we framed them right up to the underside of the OSB strips.

For the walls (particularly the party wall), there was existing plaster, which is actually quite a good air seal. One of the first things we did was to fix up the plaster on the interior walls, as we didn't want to destroy what was already there and working well. Wherever we did need to penetrate it, we went to town on the air sealing!

The framed walls along the exterior sit 5.5 inches from the masonry, so from the back of the drywall to the inside face of the brick is 5.5 inches. Nominally, this gives us 5 inches of insulation throughout. We used 2x3 finger jointed pine studs, which are 2.5 inches, whereas regular SPF (spruce pine fir) 2x4 studs are 3.5 inches. Finger jointed only come in 8-foot lengths (otherwise it's special order), but since this building has lower ceilings, it was a great fit for us! Since the studs are 2.5 inches, this means we have 3 inches of completely continuous, spray-foam insulation. If we'd used SPF, we would have had half that. In the lower level, there are 6 inches of insulation under the slab, and the foundation walls are also insulated with spray-foam.

Eco Flats 2.0 is an extremely well insulated building. Even though we weren't able to eliminate the use of spray-foam entirely, we used it less than we would have in the past, and we didn't sacrifice insulation levels or a well-sealed envelope. Our tenants won't need much in the way of heating or cooling to stay comfortable here!

Systems

Interiors

Reveal